Thoughts and Prayers 2 Thessalonians 1:1-4, 11-12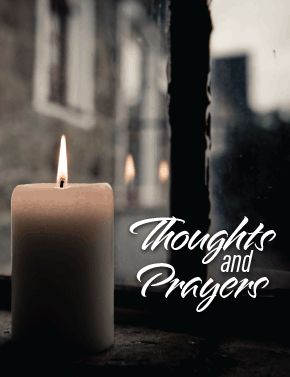 Sincere thoughts and prayers are not nothing.
AT A GLANCE:
After the slaughter of 49 people by a gunman at two mosques in New Zealand last March, Rep. Alexandria Ocasio-Cortez upset some people by tweeting, "What good are your thoughts & prayers when they don't even keep the pews safe?" She makes a good point. But her comment was also a question. Homiletics here provides an answer.
EDITOR'S PICK:
For material based on today's Old Testament text, see "Fortuitous Events," October 30, 2016. For material for All Saints Sunday, see "Santo Subito," November 4, 2007.
For material pertaining to today's gospel reading, Luke 19:1-10, see "Zacchaeus at the IRS."
Have you noticed that the phrase "thoughts and prayers" has become fodder in the struggle over gun control in the United States?
At least since the time of the Columbine school massacre 20 years ago, "thoughts and prayers" has been almost standard vocabulary in official statements of condolences from politicians and other public figures after major tragedies and natural disasters. "Our thoughts and prayers are with all those affected by this [pick one] cowardly attack, horrific shooting, senseless tragedy, unprecedented calamity."
And for a time, the phrase seemed a good combination of words. "Prayers" was a shorthand way of saying that all of us who are religious are in sympathy with you and are speaking to God on your behalf, and "thoughts" indicated that those of us who aren't religious are feeling for you as well. It was like saying "Happy holidays and merry Christmas" to cover all fronts.
But more recently, the phrase has been denounced as a platitude used in place of meaningful action.
After the slaughter of 49 people by a gunman at two mosques in New Zealand last March, Rep. Alexandria Ocasio-Cortez upset some people by tweeting, "What good are your thoughts & prayers when they don't even keep the pews safe?" She followed that tweet with another that said, "'Thoughts and prayers' is reference to the NRA's phrase used to deflect conversation away from policy change during tragedies."
In short, thoughts and prayers as an expression of condolence has been mocked as a means of political obfuscation and as a form of civilian slacktivism — supporting a cause by means such as social media or online petitions, actions requiring very little effort or commitment.
Some critics of the phrase have also pulled in the Bible to reinforce their point that thoughts and prayers without effective action are meaningless. They quote James 2:14-16: "What good is it, my brothers and sisters, if you say you have faith but do not have works? Can faith save you? If a brother or sister is naked and lacks daily food, and one of you says to them, 'Go in peace; keep warm and eat your fill,' and yet you do not supply their bodily needs, what is the good of that?"
Likewise, in one of his addresses, Pope Francis stated, "Prayer that doesn't lead to concrete action toward our brothers is a fruitless and incomplete prayer. ... Prayer and action must always be profoundly united."
Certainly, James and Pope Francis are right that words without action are not enough, no matter how good the words.
But not everyone agrees that the phrase "thoughts and prayers" is little more than verbal junk food.
About the same time as Ocasio-Cortez's tweet, Andrew Klavan, a widely published writer of crime and suspense novels, commented in his Daily Wire podcast that "When tragedy or atrocity strikes ... thoughts and prayers are not just an expression of compassion. They are ... an expression of humility and helplessness. They are a way of saying: 'There is nothing we can do in the face of this wickedness but we stand in solidarity with the victims and ask God to comfort their families in their sorrow.'"
Thoughts
What brought the debate over this terminology to mind was the reading from 2 Thessalonians assigned for today. The New Testament presents 2 Thessalonians as a letter from Paul to the followers of Jesus at Thessalonica. And the lectionary has broken today's passage from the first chapter into two blocks of verses: 1-4 and 11-12.
In the first verse block, Paul makes clear to his readers that they are in his thoughts. But he gets specific about it, saying that he and his companions "give thanks to God for you ... because your faith is growing abundantly, and the love of every one of you for one another is increasing" (v. 3). He even goes on to say that he and his coworkers boast about the Thessalonians "among the churches of God for your steadfastness and faith during all your persecutions and the afflictions that you are enduring" (v. 4). Obviously, Paul has spent some time thinking about those to whom he addressed the letter.
Prayers
In the second verse block, Paul tells his readers that they are in his prayers as well, but not in just a general, "I'll say a prayer for you" way. Rather, he gets specific about the content of his prayers: "We always pray for you, asking that our God will make you worthy of his call and will fulfill by his power every good resolve and work of faith, so that the name of our Lord Jesus may be glorified in you, and you in him" (vv. 11-12)
Because Paul spells out his thoughts and prayers, they have the ring of sincerity, genuine expressions of his feelings toward the Thessalonian believers.
Thoughtful and prayerful work
Thus, Paul shows us how to put meat on the bones of thoughts and prayers. No matter how helpless we may feel when expressing solidarity with someone who has suffered great loss, and no matter that we know words alone will not suffice, sincere thoughts and prayers are not nothing.
Thoughts are work, because they push us to view what's happened not from our view, but the view of those directly affected. Thoughts are work, especially when they lead us to consider if there's any concrete action we might do, or support others in doing, that will help.
Could the grieving person use a hand right now with kids or an aging relative for whom they are the caregiver? Is there some task we can take off their plate for a little while?
In his book, New Mercies I See, Stan Purdum talks about being the pastor of a little country church where several of the members were dairy farmers.
One day, a child of one of those farmers died suddenly. So Purdum rushed to their home to offer what comfort he could. When he got there, he found the father and mother of the deceased child in the house, with their other children around them. He knew at that time of day, the father would normally have been in the barn, milking cows, a procedure that needs to be done without fail twice a day. But a family member told Purdum that two of the neighbors, farmers themselves, had come to handle the milking without being asked.
Their thoughts had been with the grieving family, and it led them to act.
Likewise, prayer is work. If you say your prayers are with someone, and you follow through by actually praying for them, you're putting yourself in a place to see beyond your own horizons and walk in someone else's shoes. Prayer deepens our empathy and puts us in a place where God can change us and lead us to some action we can take. Though all good things come from God, praying for others assumes that God may allow our prayers to be a means by which God does good for others.
Plus, you're speaking to God on their behalf, seeking God's grace for them at a time when they may be so wounded that they can't even pray for themselves. Peter advised the early Christians to "be clear minded and self-controlled so that you can pray" (1 Peter 4:7 NIV). But in times of deep trouble or pain, people are likely to be anything but clear-minded and self-controlled.
That's not to say that they can't call out to God, but praying is not easy when grief has us in its grip. Prayer in which we petition God can be at least as demanding of our attention as writing a letter or carrying on a serious conversation, and when someone is in grief, we can shoulder some of the work of prayer for them.
If we have a relationship with God, then our prayer is an event in that relationship. It may not be a decisive event, but it is a new element in the situation, which we are presenting to the ones for whom we are praying. It's asking for God's help, and what greater source of help is there?
We offer what we can
In times of tragedy, whether it affects many or only a few, thoughts and prayers will never be the whole answer, but often, they are all we have.
Writing about the difficulties of life, author Anne Lamott said, "It's funny: I always imagined when I was a kid that adults had some kind of inner toolbox, full of shiny tools: the saw of discernment, the hammer of wisdom, the sandpaper of patience.
"But when I grew up I found that life handed you these rusty bent old tools — friendships, prayer, conscience, honesty — and said, 'Do the best you can with these, they will have to do.' And mostly, against all odds, they're enough."
God has also given us thoughts and prayers in that box of seemingly inadequate tools and told us to do our best with them. Thus, our thoughts and prayers, sincerely and genuinely offered and followed through on, are never nothing.
They are ways the Lord has given us to love our neighbor.
—Bernard Barbour, Eric Petty, Stan Purdum, Melanie Silva and Carl Wilton contributed to this material.
Possible Preaching Themes:
Thoughts and prayers are ways the Lord has given us to love our neighbor.
This passage gives us an opportunity to consider what faith formation means and how we benefit from it.
Sources:
Brown, Lauretta. "AOC offends some people of faith by asking 'What good are your thoughts and prayers?' after mosque shootings." Townhall, March 15, 2019, townhall.com. Retrieved April 16, 2019.
Klavan, Andrew. "My thoughts and prayers." Daily Wire, March 15, 2019, dailywire.com. Retrieved April 16, 2019.
Lamott, Anne. Traveling Mercies: Some Thoughts on Faith. New York: Pantheon, 1999, 103.
Purdum, Stan. New Mercies I See. CSS Publishing Company, 2003.
Click here to download a ZIP file of the November-December 2019 issue as Word Docs.
---
Worship Resources
Music Links
Hymns
We Walk by Faith and Not by Sight
O Master, Let Me Walk with Thee
Trust and Obey
Worship and PraiseW
Come into His Presence
Follow Me
For the Lord Is Marching On
WFor licensing and permission to reprint or display these songs on screen, go to ccli.com. The worship and praise songs suggested by Homiletics can be found in most cases on Google by using the title as the search term.