From Worst to First 1 Timothy 1:12-17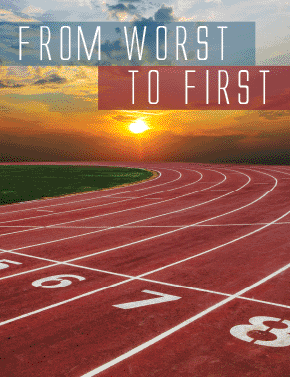 Grace was given to Paul not because he was the best, but because he was the worst.
AT A GLANCE:
After starting with a list of the worst U.S. presidents, the material moves to the worst leaders of all time. Then, shifting to the text, the apostle Paul comes under severe scrutiny. His past is checkered with violent policies and misdeeds. Yet in the text, he's speaking of the grace and mercy of God. The sermon then moves to a discussion of the kind of grace that can transform the worst into the first.
EDITOR'S PICK:
For material based on today's gospel text, see "Parked in Dopey," September 12, 2004.
In a Sienna College ranking of U.S. presidents, you might be surprised by who is first. Not Theodore Roosevelt, Abraham Lincoln or George Washington. No, they are in second, third and fourth places.
The best of the best: Franklin D. Roosevelt.
FDR is well known for his "New Deal" which created Social Security and reformed the banking system. He gets high marks for party leadership, communication and his handling of the economy and foreign policy.
And who was the worst of the presidents? Andrew Johnson.
Johnson is best known for being impeached for dismissing his Secretary of War, as well as for the terrible strife in his administration after the Civil War. Among his worst qualities were party leadership, communication, relations with Congress and court appointments.
Franklin D. Roosevelt to Andrew Johnson.
From first to worst.
But as bad as Andrew Johnson might have been, he was a rookie compared to the worst leaders of all time. According to The Atlantic magazine, this list includes:
Jefferson Davis, president of the Confederate States of America. Author Matthew Karp says, "He embraced America's deadliest conflict over the right to own people as property, and by the end of it, he had earned the hatred of almost everyone involved."
Neville Chamberlain. This prime minister of the United Kingdom made concessions to Adolf Hitler and spoke of "peace for our time." But his approach led to World War II and millions of civilian and military casualties.
Nicholas II, the last emperor of Russia. According to Ahmad Alsaleh, Nicholas "took a reasonably functioning country and left it vulnerable to radical revolutionaries."
Also on this list are Pol Pot, Idi Amin and Adolf Hitler. These three were under a "diabolical influence," says Chris Cuomo of CNN. They gave in to the temptations of the evil power which is always "disconnecting people from the basic love of one another."
Where is the apostle Paul on this list?
But how about the apostle Paul? How would we rate him as a person? Worst? First? Bad guy? Good guy? Somewhere in between?
He admitted to his younger colleague Timothy that he was "a blasphemer, a persecutor and a man of violence" (v. 13).
That's right. Paul was a blasphemer — insulting or showing contempt for God or things that are sacred. In his younger days, he was convinced that he "ought to do many things against the name of Jesus of Nazareth" (Acts 26:9).
Paul was a persecutor, locking up many of the Christian saints in prison, and pursuing them "even to foreign cities" (Acts 26:10, 11).
And Paul was a man of violence, casting votes against Christians "when they were being condemned to death" (Acts 26:10). When Stephen was stoned for giving a strong statement of his Christian faith, Paul "approved of their killing him" (Acts 8:1). Soon after, Paul "was ravaging the church by entering house after house; dragging off both men and women" (Acts 8:3).
Think for a moment of the violence and invasiveness of this scene: "Entering house after house." Can we picture this? Hear the pounding at the door. Christians inside are hiding, perhaps in a closet. Saul and his henchmen have the house surrounded. More pounding and shouting. Accusations fill the air.
Then there's a breach. Saul and his men are inside. They fan out to find the occupants. They're hiding on the rooftop, in a basket or under the bed. But they are all found and dragged screaming from their hiding places. Listen to the screams. Saul shows no mercy. He orders his men to "drag" them out of the house and onto the street. These early Christians are then no doubt thrown into an oxcart and trundled off to a prison where their fate will be determined.
A chilling scene in the 2009 movie Inglourious Basterds — perhaps its most memorable one — comes close to capturing Saul's work in hunting down Christians. The movie, which garnered eight Academy Award nominations, introduces the main antagonist, Col. Hans Landa (played by Christoph Waltz — who won the Oscar for Best Supporting Actor), in a scene in which he visits the farmhouse of Perrier LaPadite to search the residence for any hiding Jews.
He enters the house; his men stay outside. He sits at the kitchen table and asks for a glass of milk — a reasonable request since LaPadite operates a dairy farm. Landa then asks to switch to English (so that any hiding Jews in the house would not know what they're saying). LaPadite, obviously nervous, asks for permission to light his pipe and Landa agrees. It's the Frenchman's house, after all.
Landa asks LaPadite if he knows anything about the Dreyfus family, such as their names and ages, which LaPadite gives him. Landa asks for another glass of milk before he leaves, and then begins to talk about how he loves his nickname, "The Jew Hunter." He explains to LaPadite that the Jews are similar to rats, and that he doesn't consider it an insult. He goes on to elaborate on his statement before coming to the conclusion that his ability to find Jews is far more advanced than that of regular German soldiers, and that he is aware of what "human beings are capable of once they've abandoned dignity."
At this point, Landa suddenly asks for permission to smoke his pipe. He pulls out a huge Sherlock Holmes-like pipe. He then starts to tell LaPadite that in order to cross his name off the list, he would have to have his men search his house. However, he tells LaPadite that any information that would make his job a lot easier would not be met with punishment. Quite the contrary, it would be met with reward. His family would no longer be harassed in any way by the Germans during the Occupation.
Visibly convinced, LaPadite confirms to Landa that the Dreyfuses are under the floor of his house. Landa asks him if they don't speak English, since he hasn't heard any noises during the conversation.
LaPadite confirms his suspicions and Landa asks him to return to French and continue the masquerade. Hans Landa thanks him in French for the hospitality and for the milk and says that they're now finished. He exits the door, calls his men and points out the place where they need to shoot. As he bids everyone "Adieu," his men shoot through the floor, killing the Jews.
This is Saul, who became Paul. Blasphemer. Persecutor. Man of violence.
Not good.
"I received mercy"
And yet, Paul told Timothy, "I received mercy because I had acted ignorantly in unbelief, and the grace of our Lord overflowed for me with the faith and love that are in Christ Jesus" (vv. 13-14). Paul was saved from a life of violence and evil by the unexpected mercy that God showed hm. The grace of God was not doled out in small measures, but it absolutely "overflowed" for him. Divine mercy and grace made it possible for the persecutor Saul — the Christian hunter — to become the apostle Paul, and arguably the world's greatest for the Christian faith.
From worst to first.
What is grace?
But what is transformative grace, exactly?
Christian writer Philip Yancey was asked to give a definition of grace, and he answered, "I don't even try."
But he did tell a story. "I remember once getting stuck in Los Angeles traffic and arriving 58 minutes late at the Hertz rental desk. I walked up in kind of a bad mood, put the keys down and said, 'How much do I owe?'
"The woman says, 'Nothing. You're all clear.'
"I said I was late and she smiled, 'Yes, but there's a one-hour grace period.'
"So I asked, 'Oh really, what is grace?'
"And she said, 'I don't know … I guess what it means is that even though you're supposed to pay, you don't have to.'"
That's a pretty good definition of grace, isn't it? "Even though you're supposed to pay, you don't have to."
Paul was supposed to pay for being a blasphemer, but he didn't have to.
He was supposed to pay for being a persecutor, but he didn't have to.
He was supposed to pay for being a man of violence, but he didn't have to.
Instead, the grace of our Lord overflowed for him with the faith and love that are in Christ Jesus. Paul received mercy and went on to become the number-one leader of the first-century church.
Grace doesn't make a lot of sense if people get off the hook and then return to their bad behavior. But more often than not, the opposite is true. People who receive mercy and grace are usually so grateful that they turn their lives around and do everything they can to show grace and mercy to others.
Chuck Colson was President Richard Nixon's "hatchet man," and he went to prison for his role in the Watergate scandal. But after receiving the gift of grace, he went on to create a ministry called Prison Fellowship and to take the message of Jesus to prisoners around the world.
Dorothy Day was a journalist and activist with a tumultuous personal life. But after receiving the gift of grace, she went on to help start the Catholic Worker movement, which included special homes to help people in need.
Grace doesn't just free us — it elevates us. It moves us from worst to first.
Grace available to all
The best part about grace is that it is a central part of God's plan, and it is available to each of us. "The saying is sure and worthy of full acceptance," said Paul to Timothy, "that Christ Jesus came into the world to save sinners — of whom I am the foremost" (v. 15). Christ Jesus came into the world to save sinners — not just Paul, Chuck and Dorothy, but each one of us. Although we are supposed to pay for our sins, we don't have to, because of Jesus. Each of us is let off the hook, because Christ Jesus came into the world to save us. All we have to do is trust in him and let him move us up the ladder from worst to first.
When we put our faith in Jesus, we discover that we become part of God's plan to save the world. Paul discovered this, which is why he said that Jesus chose him precisely because he was the worst. "For that very reason I received mercy," he wrote, "so that in me, as the foremost [sinner], Jesus Christ might display the utmost patience, making me an example to those who would come to believe in him for eternal life" (v. 16). Paul was not shown mercy because he deserved it, but precisely because he did not deserve it. It came as a pure gift, one that was given to him to reveal to the people of the world that Christ loves to save sinners.
Paul was grateful for this mercy and grace, and he responded by becoming one of the greatest leaders of the church. As he said to Timothy, "I am grateful to Christ Jesus our Lord, who has strengthened me, because he judged me faithful and appointed me to his service" (v. 12). This former blasphemer, persecutor and man of violence showed his gratitude by turning his life around and serving the very same Christians he had hurt.
Grace must be received
A similar transformation can be experienced by us, when we receive the grace of Jesus. Even though we're supposed to pay, we don't have to — Jesus pays the price for all of our sins. Even though we feel badly about ourselves, Jesus loves us so much that he wants to save us. Grace is not about us, but about God's plan for the world.
It doesn't matter if you feel like you are the worst friend, worst husband, worst wife, worst neighbor, worst parent, worst child, worst employee. Maybe you are a violent person. A criminal. A person with a tumultuous personal life. Maybe you'd be a president even more awful than Andrew Johnson or Jefferson Davis.
No matter who you are or what you have done, the grace of our Lord overflows for you with the faith and love that are in Christ Jesus. Our Lord wants to move you from the bottom to the top and show you how to live a life that will reveal Christ to the world. Like the apostle Paul, you can become "an example to those who would come to believe in [Jesus] for eternal life."
That's a big shift, for sure. From worst to first. But it is possible for anyone who believes, because of the mercy and grace of Jesus Christ.
Henry G. Brinton, Kristin Galle, Scott D. Nowack, Ron Scates, Michael Umbenhaur, Connie Ury and Carl Wilton contributed to this material.
Possible Preaching Themes:
Being judged faithful by Christ
The mission of Jesus: saving sinners
Giving honor and glory to the King of the ages
Sources:
Allhands, Joanna. "10 best (and 5 worst) U.S. presidents." Arizona Central, February 20, 2018, azcentral.com.
"Inglourious Basterds," Wikipedia.org.
"Who is the worst leader of all time?" The Atlantic, January/February 2017, 100.
Yancey, Philip. "Grace." philipyancey.com.
THE OTHER TEXTS
SEPTEMBER 15, 2019, Cycle C
Jeremiah 4:11-12, 22-28
What Does the Text Say?
Today's reading is part of a larger oracle of judgment against "the people of Judah" and "the inhabitants of Jerusalem" (v. 3; cf. vv. 5, 10, 11, 16) concerning their "abominations" (v. 1) and their lack of truth, justice and uprightness (v. 2). The oracle predicts the almost complete destruction of the southern kingdom of Judah and its capital, Jerusalem. The first image the prophet uses is the "hot wind" ordinarily used for winnowing grain (v. 11). In this case, the hot wind is the king of Babylon, who comes to the chosen people neither to winnow nor to cleanse, but to destroy as an agent of divine punishment (vv. 13-18). The reason for the divinely sanctioned destruction is that the chosen people have become "skilled in doing evil" (v. 22). The result is a cataclysmic upheaval of the natural order. The earth becomes "waste and void" (v. 23), using the same expression found in Genesis 1:1 ("formless void") to describe the pre-creation chaos from which the habitable world was divinely made. Whatever the agency, the result is catastrophic for an agricultural society such as Judah. Today's reading ends on a faint note of hope: The destruction will be widespread and profound, but it will not be absolute: "yet I will not make a full end" (v. 27). A remnant of survivors will remain to rebuild, replant and restore.
Matthias Chosen to Replace JudasWhat Is One Possible Approach to the Text?
Basic Skills in Goodness 101. Verse 22 has some interesting words which are all related to cognitive activity. They are: foolish, stupid, understanding, skilled and know. What would you think of a parent who said this about her kids? — "My kids? They're a bunch of stupid, foolish delinquents who do nothing but cause trouble, and you know what? I'm done with them." These children do have skills, but they're skilled at doing the wrong things. "They are skilled in doing evil." Their basic problem is that "they do not know how to do good." So, is doing goodness something that can be taught? And if so, what would a course in goodness cover? The sermon, then, is a syllabus for Basic Skills in Goodness 101.
Psalm 14
What Does the Text Say?
"Fools say in their hearts [emphasis added], 'There is no God.'" This is an atheism of convenience, referring to ungodly behavior (vv. 1b, 3-4), rather than deficient theology. Fools (the Hebrew word, in context, means worthless, good-for-nothing, senseless, immoral, godless people) believe they can act with impunity, as though behavior won't be noticed or punished by God. Psalm 53 has much in common with Psalm 14, sharing abundant verbatim language. Psalm 10:13 says, "Why do the wicked renounce God, and say in their hearts, 'You will not call us to account'?" In verses 2-3, God looks over all the earth to find even one person who is wise, who seeks after God, but all have "gone astray…; there is no one who does good, no, not one" (see Romans 3:9-12, 18). God is like the Greek philosopher Diogenes, who was carrying a lamp even in the daytime, looking for one honest man. See Zephaniah 1:12: "At that time I [the Lord] will search Jerusalem with lamps, and I will punish the people who … say in their hearts, 'The Lord will not do good, nor will he do harm.'" But God does notice; God does punish. Verse 7 implies that it is foolish Israel who is suffering the consequences of "practical atheism"; yet Israel or the psalmist wistfully asks God to deliver and restore, anticipating the joy that will come. God invites fools to seek him and to live wisely; he responds favorably to those who do (see Jeremiah 29:13-14).
What Is One Possible Approach to the Text?
Basic Skills in Goodness 201. (For Basic Skills in Goodness 101, see above.) Like the Jeremiah text for today's RCL readings, this psalm excoriates those who believe they can behave wickedly and get away with it. Evidently, they do not believe that there is a God who will call for an accounting. The situation is dire: virtually no one is doing good. So this second-level course in Goodness stresses accountability and responsibility. Those who oppress the poor should remember that the Lord is the refuge of the poor, and that God is with the "company of the righteous."
*Homiletics has treated this text twice. Select Psalm in the Scripture Index drop down menu and click GO.
Luke 15:1-10
What Does the Text Say?
The setting of "this parable" (v. 3) describes two groups: tax collectors and sinners (v. 1) and Pharisees and scribes (v. 2). The second group is "grumbling" or muttering that Jesus "welcomes sinners and eats with them" (v. 2). By telling these parables in 15:1-10, Jesus re-emphasizes that the accusation that he eats with sinners is no accusation at all; in fact, this is a true statement, which is at the heart of Jesus' ministry. As Luke narrates it, Jesus' purpose in this setting is to show the Pharisees and scribes that they, too, should listen to his parables and thus welcome sinners in table fellowship (v. 2), accepting them. Both scenes of the parable, the man who has 100 sheep and the woman who has 10 coins, have much in common. The format is the same: A person notices that something is gone, sacrifices time and energy to pursue and find what is lost, restores what is lost to its rightful place, and rejoices with others when what was lost has now been found. Finally, each narrative concludes with a comment about sinners and repentance which locates both sayings strongly in the context of this debate with the Pharisees and the scribes. Both narratives have two groups delineated in them: those that are lost (sheep, coin), and those that are found. The conclusion is that the one who is lost is finally restored to wholeness by a "seeker" who purposefully pursues that which is lost.
What Is One Possible Approach to the Text?
Procedures and Protocols. The coin and the sheep are missing. Keep in mind that the coin at one time was in the purse, and the sheep was in the fold. Then — they weren't. What happened? Mistakes were made. Procedures and protocols were not followed. So now, a search ensues for the coin and the sheep, and both are eventually recovered. Great! But this still does not address the problem: How was it that the coin and the sheep went missing in the first place? The church's mission certainly involves recovering those who are missing and have lost their way. But the church must also provide a place of safety for those within its fold. Do some people approach the church and find that the doors are closed to them? Do some find that they're not welcome and are driven from the church feeling unwanted? Does the church adequately address the needs of all of its constituents? This parable challenges the church to reevaluate how it's taking care of its coins and sheep.
*Homiletics has treated this text six times. Select Luke in the Scripture Index drop down menu and click GO.
Click here to download a ZIP file of the September-October 2019 issue as Word Docs.
---
Worship Resources
Music Links
Hymns
To God Be the Glory
For the Healing of the Nations
Take My Life
Worship and PraiseW
Antiphonal Praise (Green)
More Love, More Power (Hierro)
As the Deer (Nystrom)
WFor licensing and permission to reprint or display these songs on screen, go to ccli.com. The worship and praise songs suggested by Homiletics can be found in most cases on Google by using the title as the search term.