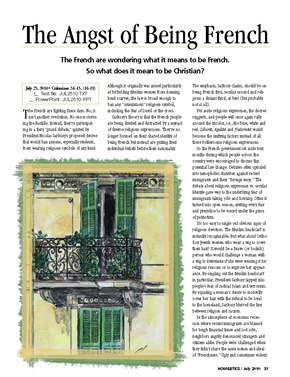 The Angst of Being French
Sunday, July 25, 2010
|
Colossians 2:6-15, 16-19
The president of France recently initiated what's been called the grand debate: What does it mean to be French?

The French are fighting these days. No, it isn't another revolution. No one is storming the Bastille. Instead, they're participating in a fiery "grand debate," ignited by President Nicolas Sarkozy's proposed decree that would ban anyone, especially students, from wearing religious symbols of any kind. Although it originally was aimed particularly at forbidding Muslim women from donning head scarves, the law is broad enough to ban any "ostentatious" religious symbol, including the Star of David or the cross.

Sarkozy's theory is that the French people are being divided and distracted by a myriad of diverse religious expressions. They're no longer focused on their shared identity of being French but instead are putting their individual beliefs before their nationality. The emphasis, Sarkozy claims, should be on being French first, secular second and religious a distant third, at best (but probably not at all).

Put aside religious...
---
Start today. Cancel anytime.
Act now and, for just $6.99 a month or $69.95 a year, you'll receive a full year of this valuable, sermon preparation resource.
Our convenient, continuous-subscription program ensures you'll never miss out on the inspiration you need, when you need it.
You're never obligated to continue. Naturally, you may cancel at any time for any reason, no questions asked.