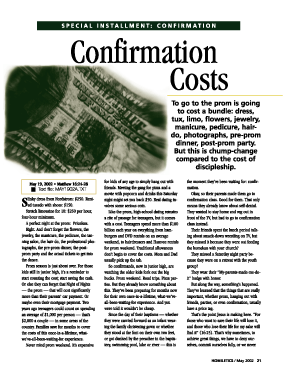 Confirmation Costs
Sunday, May 19, 2002
|
Matthew 16:24-28
Parents of prom queens and teens know how much it costs to foot the bill for one evening of entertainment. By the time the bill is paid on the dress, tux, flowers, jewelry, manicure, photographs and pompadour, you've taken out a second mortgage. Compare this, however, to the cost of being a disciple.
Slinky dress from Nordstrom: $250. Rented tuxedo with shoes: $150.

Stretch limousine for 18: $250 per hour, four-hour minimum.

A perfect night at the prom: Priceless.

Right. And don't forget the flowers, the jewelry, the manicure, the pedicure, the tanning salon, the hair do, the professional photographs, the pre-prom dinner, the post-prom party and the actual tickets to get into the dance.

Prom season is just about over. For those kids still in junior high, it's a reminder to start counting the cost; start saving the cash. Or else they can forget that Night of Nights - the prom - that will cost significantly more than their parents' car payment. Or maybe even their mortgage payment. Two years ago teenagers could count on spending an average of $1,000 per person - that's $2,000 a couple - in some areas of the country. Families save for months to cover the costs of this once-in-a-lifetime, what-we've-all-been-waiting-for experience.

Never mind prom weekend. It's expensive for kids of...
---
Start today. Cancel anytime.
Act now and, for just $6.99 a month or $69.95 a year, you'll receive a full year of this valuable, sermon preparation resource.
Our convenient, continuous-subscription program ensures you'll never miss out on the inspiration you need, when you need it.
You're never obligated to continue. Naturally, you may cancel at any time for any reason, no questions asked.