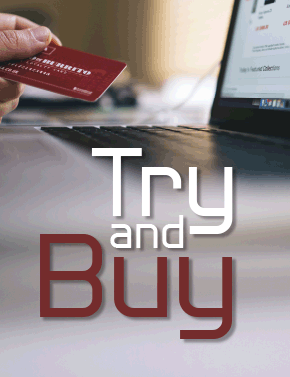 Try and Buy
Sunday, January 17, 2021
|
John 1:43-51
Because of the COVID-19 virus, online marketing has spiked. But what if you want to try a product before buying? Not to worry. "Try before you buy" is now a standard industry option.
Seeing is believing.
This is the bedrock upon which the advertising world rests. A salesperson at the Godzilla Hawg Shop can talk to you about the 2021 Kawasaki Z125 Pro until he's blue in the face. Won't matter much. You have to see it to believe it. You have to try it before you buy it.
"Won't hurt to take a look," he says. And you look, and he tells you that "this baby's less than $3,000, has a 37-inch seat height, only 225 pounds — a 125cc single-cylinder machine of aggressive style and raw power. Want to take it for a ride?" Of course you do.
Few people buy a house unseen. When house-hunting, we might tour several homes before signing the papers. It never hurts to take a look. And when we look at the amenities in the kitchen, the spacious en suite bathroom in the primary bedroom, the cabinets in the two-car garage, we're sold.
But in a COVID culture, we're able order a lot of stuff online. What if we want to...