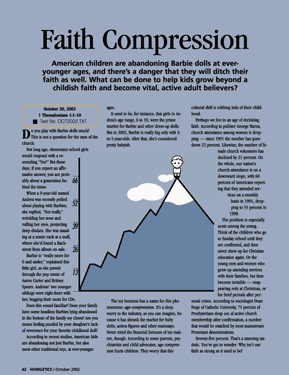 Faith Compression
Sunday, October 20, 2002
|
1 Thessalonians 1:1-10
You'd think that 10-year-old little girls would count their Barbie dolls as among their prized possessions. Used to be the case. Yet now, 10-year-olds are far too sophisticated to play with Barbies. Dolls are for the 6 and under set. Our culture is experiencing age compression and Paul hopes that this phenomenon does not extend to our faith.

Do you play with Barbie dolls much?

This is not a question for the men of the church.

Not long ago, elementary-school girls would respond with a resounding "Yes!" But these days, if you expect an affirmative answer, you are probably about a generation behind the times.
When a 9-year-old named Andrea was recently polled about playing with Barbies, she replied, "Not really," wrinkling her nose and rolling her eyes, projecting deep disdain. She was standing at a music rack at a mall, where she'd found a Backstreet Boys album on sale.

Barbie is "really more for 6 and under," explained this little girl, as she pawed through the pop music of Aaron Carter and Britney Spears. Andreas' two younger siblings were right there with her, begging their mom for CDs.

Does this sound familiar? Does your family have some headless Barbies lying abandoned in the bottom of the family toy closet? Are you moms feeling puzzled by your daughter's lack of reverence for your favorite childhood doll?

According to...
---
Start today. Cancel anytime.
Act now and, for just $6.99 a month or $69.95 a year, you'll receive a full year of this valuable, sermon preparation resource.
Our convenient, continuous-subscription program ensures you'll never miss out on the inspiration you need, when you need it.
You're never obligated to continue. Naturally, you may cancel at any time for any reason, no questions asked.