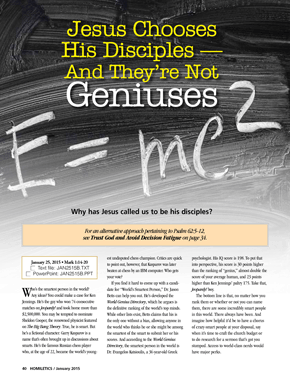 Jesus Chooses His Disciples -- and They're Not Geniuses
Sunday, January 25, 2015
|
Mark 1:14-20
Who have the highest IQs in the world? How important is IQ for being a disciple of Jesus?
Who's the smartest person in the world?

Any ideas? You could make a case for Ken Jennings. He's the guy who won 74 consecutive matches on Jeopardy! and took home more than $2,500,000. You may be tempted to nominate Sheldon Cooper, the renowned physicist featured on The Big Bang Theory. True, he is smart. But he's a fictional character. Garry Kasparov is a name that's often brought up in discussions about smarts. He's the famous Russian chess player who, at the age of 22, became the world's youngest undisputed chess champion. Critics are quick to point out, however, that Kasparov was later beaten at chess by an IBM computer. Who gets your vote?

If you find it hard to come up with a candidate for "World's Smartest Person," Dr. Jason Betts can help you out. He's developed the World Genius Directory, which he argues is the definitive ranking of the world's top minds. While other lists exist, Betts claims that his is the only one without a bias, allowing anyone in the world who thinks he or...
---
Start today. Cancel anytime.
Act now and, for just $6.99 a month or $69.95 a year, you'll receive a full year of this valuable, sermon preparation resource.
Our convenient, continuous-subscription program ensures you'll never miss out on the inspiration you need, when you need it.
You're never obligated to continue. Naturally, you may cancel at any time for any reason, no questions asked.