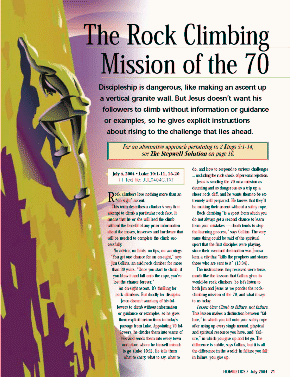 The Rock Climbing Mission of the 70
Sunday, July 4, 2004
|
Luke 10:1-11, 16-20
The Rock Climbing Mission of the 70 The analogies that link the climbing of mountains to discipleship are many, not the least of which is that a good rock climber climbs in the future — today!
Rock climbers love nothing more than an "on-sight" ascent.

This term describes a climber's very first attempt to climb a particular rock face. It means that he or she will lead the climb without the benefit of any prior information about the moves, traverses and hardware that will be needed to complete the climb successfully.

No advice, no hints, no tips, no warnings. "You get one chance for an on-sight," says Jim Collins, an avid rock climber for more than 30 years. "Once you start to climb, if you blow it and fall onto the rope, you've lost the chance forever."

An on-sight ascent. It's thrilling for rock climbers. But deadly for disciples.

Jesus doesn't want any of his followers to climb without information or guidance or examples, so he gives them explicit instructions in today's passage from Luke. Appointing 70 followers, he divides them into teams of two and sends them into every town and place where he himself intends to go (Luke 10:1). He tells them what to carry, what to say,...
---
Start today. Cancel anytime.
Act now and, for just $6.99 a month or $69.95 a year, you'll receive a full year of this valuable, sermon preparation resource.
Our convenient, continuous-subscription program ensures you'll never miss out on the inspiration you need, when you need it.
You're never obligated to continue. Naturally, you may cancel at any time for any reason, no questions asked.