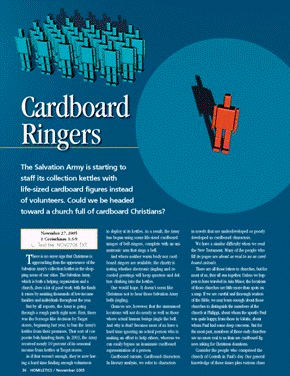 Cardboard Ringers
Sunday, November 27, 2005
|
1 Corinthians 1:3-9
The Salvation Army, lacking enough volunteers, sometimes resorts to cardboard ringers to attract Christmas donations.
There is no surer sign that Christmas is approaching than the appearance of the Salvation Army's collection kettles in the shopping areas of our cities. The Salvation Army, which is both a helping organization and a church, does a lot of good work with the funds it raises by assisting thousands of low-income families and individuals throughout the year.

But by all reports, the Army is going through a rough patch right now. First, there was the Scrooge-like decision by Target stores, beginning last year, to ban the Army's kettles from their premises. That sort of corporate bah-humbug hurts. In 2003, the Army received nearly 10 percent of its seasonal income from kettles at Target stores.

As if that weren't enough, they're now having a hard time finding enough volunteers to deploy at its kettles. As a result, the Army has begun using some life-sized cardboard images of bell-ringers, complete with an animatronic arm that rings a bell.

And where neither warm body nor ...
---
Start today. Cancel anytime.
Act now and, for just $6.99 a month or $69.95 a year, you'll receive a full year of this valuable, sermon preparation resource.
Our convenient, continuous-subscription program ensures you'll never miss out on the inspiration you need, when you need it.
You're never obligated to continue. Naturally, you may cancel at any time for any reason, no questions asked.