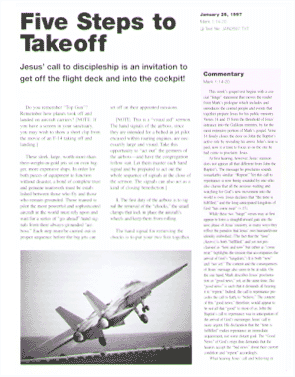 Five Steps to Takeoff
Sunday, January 26, 1997
|
Mark 1:14-20
Jesus' call to discipleship is an invitation to get off the flight deck and into the cockpit!



Do you remember "Top Gun"? Remember how planes took off and landed on aircraft carriers? [NOTE: If you have a screen in your sanctuary, you may wish to show a short clip from the movie of an F-14 taking off and landing.]

These sleek, large, worth-more-than-their-weight-in-gold jets sit on even bigger, more expensive ships. In order for both pieces of equipment to function without disaster, a bond of complete trust and genuine teamwork must be established between those who fly and those who remain grounded. Those trained to pilot the most powerful and sophisticated aircraft in the world must rely upon and wait for a series of "go-ahead" hand signals from their always-grounded "airboss." Each step must be carried out in proper sequence before the big jets can set off on their appointed missions.

[NOTE: This is a "visual aid" sermon. The hand signals of the airboss, since they are intended for a belted-in jet pilot encased within roaring engines, are necessarily large and visual. Take...
---
Start today. Cancel any time.
Act now and, for just $7.99 a month or $69.95 a year, you'll receive a full year of this valuable sermon preparation resource.
Our convenient, continuous-subscription program ensures you'll never miss out on the inspiration you need, when you need it.
You're never obligated to continue. Naturally, you may cancel at any time for any reason, no questions asked.