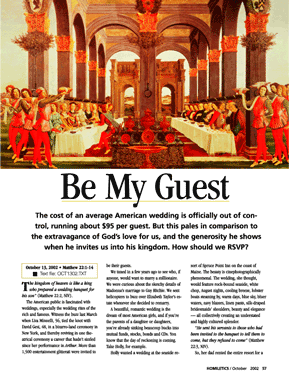 Be My Guest
Sunday, October 13, 2002
|
Matthew 22:1-14
We're fascinated by the weddings of the rich and famous, and - when we're asked to foot the bill for our children's wedding - we're aghast at the expense. Yet, what could be worse than planning an elaborate and expensive wedding, only to discover that no one cared, and no one came! Jesus explains.

The kingdom of heaven is like a king who prepared a wedding banquet for his son" (Matthew 22:2, NIV).

The American public is fascinated with weddings, especially the wedding rites of the rich and famous. Witness the buzz last March when Liza Minnelli, 56, tied the knot with David Gest, 48, in a bizarro-land ceremony in New York, and thereby reviving in one theatrical ceremony a career that hadn't sizzled since her performance in Arthur. More than 1,500 entertainment glitterati were invited to be their guests.

We tuned in a few years ago to see who, if anyone, would want to marry a millionaire. We were curious about the sketchy details of Madonna's marriage to Guy Ritchie. We sent helicopters to buzz over Elizabeth Taylor's estate whenever she decided to remarry.

A beautiful, romantic wedding is the dream of most American girls, and if you're the parents of a daughter or daughters, you're already sinking beaucoup bucks into mutual funds, stocks, bonds and CDs. You know that the day of...
---
Start today. Cancel anytime.
Act now and, for just $6.99 a month or $69.95 a year, you'll receive a full year of this valuable, sermon preparation resource.
Our convenient, continuous-subscription program ensures you'll never miss out on the inspiration you need, when you need it.
You're never obligated to continue. Naturally, you may cancel at any time for any reason, no questions asked.