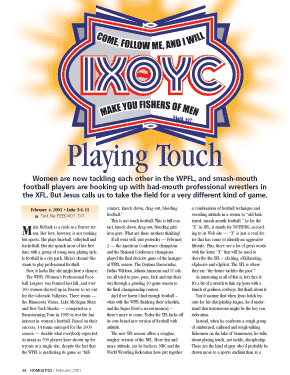 Playing Touch
Sunday, February 4, 2001
|
Luke 5:1-11
We're not through with football quite yet. The Women's Professional Football League just concluded their season, as did the NFL. But the new XFL league is just starting its smash-mouth version - football with an attitude. When Jesus calls us into the discipleship game, however, don't expect to play tackle.
Mirja McDade is a cook at a Denver tavern. Her love, however, is not cooking but sports. She plays baseball, volleyball and basketball. But she spends most of her free time with a group of young men playing tackle football in a city park. Mirja's dream? She wants to play professional football.

Now, it looks like she might have a chance.

The WPFL (Women's Professional Football League) was formed last fall, and over 300 women showed up in Denver to try out for the Colorado Valkyries. Three teams - the Minnesota Vixens, Lake Michigan Minx and New York Sharks - competed in a Barnstorming Tour in 1999 to test the fan interest in women's football. Based on their success, 14 teams emerged for the 2000 season - double what everybody expected. As many as 700 players have shown up for tryouts at a single site, despite the fact that the WPFL is marketing its game as "full-contact, knock-down, drag-out, bleeding football."

This is not touch football. This is full-contact, knock-down, drag-out,...
---
Start today. Cancel any time.
Act now and, for just $7.99 a month or $69.95 a year, you'll receive a full year of this valuable sermon preparation resource.
Our convenient, continuous-subscription program ensures you'll never miss out on the inspiration you need, when you need it.
You're never obligated to continue. Naturally, you may cancel at any time for any reason, no questions asked.