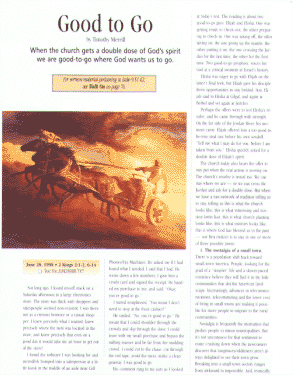 Good to Go
Sunday, June 28, 1998
|
2 Kings 2:1-2, 6-14
When we feel bad-to-go, or good-to-stay, God's double-dose Spirit empowers us to go beyond the nostalgia of yesterday into the opportunities of tomorrow, beyond the myth and into the reality, and beyond the old ways of doing business to new, inventive ways of faithful discipleship.


Not long ago, I found myself stuck on a Saturday afternoon in a large electronics store. The store was thick with shoppers and salespeople seemed non-existent. I was there not as a curious browser or a casual shopper; I knew precisely what I wanted, knew precisely where the item was located in the store, and knew precisely that even on a good day it would take me an hour to get out of the store!

I found the software I was looking for and incredibly bumped into a salesperson at a little kiosk in the middle of an aisle near Cell Phones/Fax Machines. He asked me if I had found what I needed. I said that I had. He wrote down a few numbers; I gave him a credit card and signed the receipt. He handed my purchase to me, and said, "Okay, you're good to go."

I stared nonplused. "You mean I don't need to stop at the front cashier?"

He smiled. "No, you're good to go." He meant that I could shoulder through the crowds and slip through the door. I could leave with my small purchase and bypass...
---
Start today. Cancel anytime.
Act now and, for just $6.99 a month or $69.95 a year, you'll receive a full year of this valuable, sermon preparation resource.
Our convenient, continuous-subscription program ensures you'll never miss out on the inspiration you need, when you need it.
You're never obligated to continue. Naturally, you may cancel at any time for any reason, no questions asked.