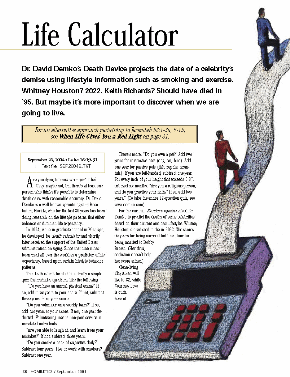 Life Calculator
Sunday, September 26, 2004
|
Luke 16:19-31
Dr. David Demko's Death Device projects the date of a celebrity's demise using lifestyle information such as smoking and exercise. Whitney Houston? 2022. Keith Richards? Should have died in'95. But maybe it's more important to discover when we are going to live.
Are you dying to know when you'll die?

Okay, maybe not, but there's at least one person who thinks it's possible to determine death dates with reasonable accuracy. Dr. David Demko is a well-known gerontologist in Boca Raton, Florida, who for the last 30 years has been doing research on the lifestyle patterns that either enhance or diminish life expectancy.

In 1974, while in graduate school in Michigan, he developed the death calculator and shortly later received the support of the United States Administration on Aging. Since that time it has been used all over the world as a predictor of life expectancy, based upon certain lifestyle behavior patterns.

The death calculator itself is actually a simple quiz that includes questions like the following:

"Do you have an annual physical exam?" If so, add three years to your score. If not, subtract three years from your score.

"Do you volunteer on a weekly basis?" If so, add two years to your score. If...
---
Start today. Cancel anytime.
Act now and, for just $6.99 a month or $69.95 a year, you'll receive a full year of this valuable, sermon preparation resource.
Our convenient, continuous-subscription program ensures you'll never miss out on the inspiration you need, when you need it.
You're never obligated to continue. Naturally, you may cancel at any time for any reason, no questions asked.