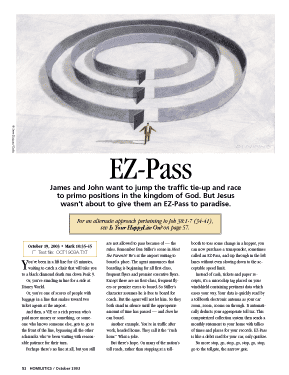 EZ-Pass
Sunday, October 19, 2003
|
Mark 10:35-45
If you're tired of traffic trauma, you can avoid stop-and-go gridlock by heading for the toll road and zipping past the toll-booths with a transponder EZ-Pass. When the disciples James and John suggested that Jesus give them a similar pass to the front of the line, they didn't get the response they'd hoped for.

You've been in a lift line for 45 minutes, waiting to catch a chair that will take you to a black diamond death run down Peak 9.

Or, you're standing in line for a ride at Disney World.

Or, you're one of scores of people with baggage in a line that snakes toward two ticket agents at the airport.

And then, a VIP, or a rich person who's paid more money or something, or someone who knows someone else, gets to go to the front of the line, bypassing all the other schmucks who've been waiting with reasonable patience for their turn.

Perhaps there's no line at all, but you still are not allowed to pass because of — the rules. Remember Ben Stiller's scene in Meet the Parents? He's at the airport waiting to board a place. The agent announces that boarding is beginning for all first-class, frequent flyers and premier executive flyers. Except there are no first-class, frequent flyers or premier execs to board. So Stiller's character assumes he is free to board for coach. But the agent will not let...
---
Start today. Cancel anytime.
Act now and, for just $6.99 a month or $69.95 a year, you'll receive a full year of this valuable, sermon preparation resource.
Our convenient, continuous-subscription program ensures you'll never miss out on the inspiration you need, when you need it.
You're never obligated to continue. Naturally, you may cancel at any time for any reason, no questions asked.