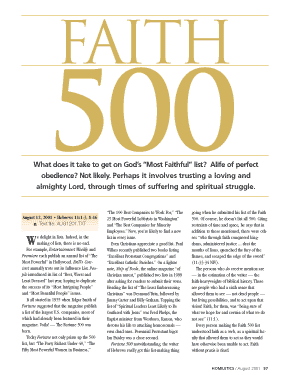 The Faith 500
Sunday, August 12, 2001
|
Hebrews 11:1-3, 8-16
The culture has become fond of lists. That's why we check out the Best Songs of the 20th Century or a list of the World's Richest People, or The 50 Most Powerful Women in Business, etc. So who do you suppose made it on the list of the Bible's Most Influential People of Faith?


We delight in lists. Indeed, in the making of lists, there is no end.

For example, Entertainment Weekly and Premiere each publish an annual list of "The Most Powerful" in Hollywood. Brill's Content annually trots out its Influence List. People introduced its list of "Best, Worst and Least Dressed" last year, hoping to duplicate the success of its "Most Intriguing People" and "Most Beautiful People" issues.

It all started in 1955 when Edgar Smith of Fortune suggested that the magazine publish a list of the largest U.S. companies, most of which had already been featured in their magazine. Voila! - The Fortune 500 was born.

Today Fortune not only prints up the 500 list, but "The Forty Richest Under 40," "The Fifty Most Powerful Women in Business," "The 100 Best Companies to Work For," "The 25 Most Powerful Lobbyists in Washington" and "The Best Companies for Minority Employees." Now, you're likely to find a new list in every issue.

Even Christians appreciate a good list. Paul Wilkes recently ...