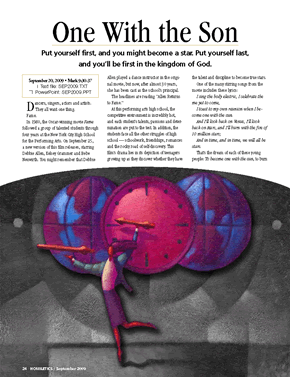 One With the Son
Sunday, September 20, 2009
|
Mark 9:30-37
The 1980 Oscar-winning movie Fame is being released September 25. But this time, nearly 30 years later, it's a new version with a new cast.
Dancers, singers, actors and artists.

They all want one thing.

Fame.

In 1980, the Oscar-winning movie Fame followed a group of talented students through four years at the New York City High School for the Performing Arts. On September 25, a new version of this film releases, starring Debbie Allen, Kelsey Grammer and Bebe Neuwirth. You might remember that Debbie Allen played a dance instructor in the original movie, but now, after almost 30 years, she has been cast as the school's principal.

The headlines are reading "Allen Returns to Fame."

At this performing arts high school, the competitive environment is incredibly hot, and each student's talents, passions and determination are put to the test. In addition, the students face all the other struggles of high school — schoolwork, friendships, romances and the rocky road of self-discovery. This film's drama lies in its depiction of teenagers growing up as they discover whether they have the talent and discipline to become true stars.

One of ...