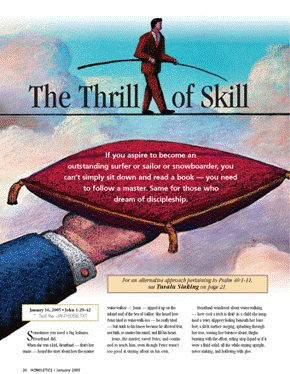 The Thrill of Skill
Sunday, January 16, 2005
|
John 1:29-42
You don't watch a video or read a book if you really want to learn how to surf the waves of Waikiki. No harm in that, of course. But there comes a point when you've got to spend time with a master.
Sometimes you need a big kahuna.

Heartland did.

When she was a kid, Heartland — that's her name — heard the story about how the master water-walker — Jesus — ripped it up on the inland surf of the Sea of Galilee. She heard how Peter tried to water-walk-too — he really tried — but sunk to his knees because he allowed fear, not faith, to master his mind, and fill his heart.

Jesus, the master, saved Peter, and continued to teach him, even though Peter wasn't too good at staying afloat on his own.

Heartland wondered about water-walking — how cool a trick is that? As a child she imagined a wavy, slippery feeling beneath her bare feet; a slick surface surging, splashing through her toes, tossing her balance about, thighs burning with the effort, riding atop liquid as if it were a fluid solid, all the while staying upright, never sinking, and hollering with glee.

Her water-walking fantasy, just like Peter's brief one-plight stand, was ...