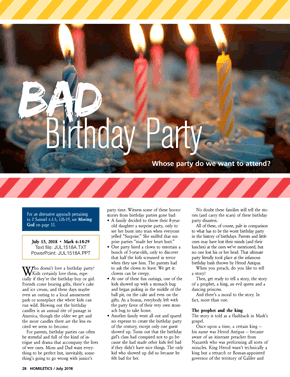 Bad Birthday Party
Sunday, July 15, 2018
|
Mark 6:14-29
King Herod throws a birthday bash, and it ends in a murder.
Who doesn't love a birthday party?

Kids certainly love them, especially if they're the birthday boy or girl. Friends come bearing gifts, there's cake and ice cream, and these days maybe even an outing to a local amusement park or someplace else where kids can run wild. Blowing out the birthday candles is an annual rite of passage in America, though the older we get and the more candles there are the less excited we seem to become.

For parents, birthday parties can often be stressful and full of the kind of intrigue and drama that accompany the lives of wee ones. Mom and Dad want everything to be perfect but, inevitably, something's going to go wrong with junior's party time. Witness some of these horror stories from birthday parties gone bad:

+ A family decided to throw their 8-year-old daughter a surprise party, only to see her burst into tears when everyone yelled "Surprise." She sniffed that surprise parties "made her heart hurt."

+ One party hired a clown to entertain a bunch of...
---
Start today. Cancel anytime.
Act now and, for just $6.99 a month or $69.95 a year, you'll receive a full year of this valuable, sermon preparation resource.
Our convenient, continuous-subscription program ensures you'll never miss out on the inspiration you need, when you need it.
You're never obligated to continue. Naturally, you may cancel at any time for any reason, no questions asked.