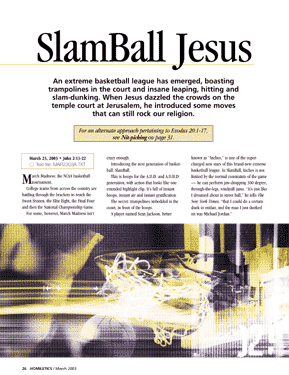 SlamBall Jesus
Sunday, March 23, 2003
|
John 2:13-22
Professional basketball is dazzling — what with the lob passes, no-look passes and behind-the-back dribbling. For the A.D.D. generation, however, there's a new game coming to town playing on a court that has four trampolines embedded in the floor. It's a new game, and a new player — exactly the message Jesus sent when he walked onto the temple court only days before his death.

March Madness: the NCAA basketball tournament.

College teams from across the country are battling through the brackets to reach the Sweet Sixteen, the Elite Eight, the Final Four and then the National Championship Game.

For some, however, March Madness isn't crazy enough.

Introducing the next generation of basketball: SlamBall.

This is hoops for the A.D.D. and A.D.H.D generation, with action that looks like one extended highlight clip. It's full of instant hoops, instant air and instant gratification.

The secret: trampolines imbedded in the court, in front of the hoops.

A player named Sean Jackson, better known as "Inches," is one of the supercharged new stars of this brand-new extreme basketball league. In SlamBall, Inches is not limited by the normal constraints of the game — he can perform jaw-dropping 360 degree, through-the-legs, windmill jams. "It's just like I dreamed about in street ball," he tells The New York Times, "that I could do a certain dunk in midair, and the man I just...
---
Start today. Cancel any time.
Act now and, for just $7.99 a month or $69.95 a year, you'll receive a full year of this valuable sermon preparation resource.
Our convenient, continuous-subscription program ensures you'll never miss out on the inspiration you need, when you need it.
You're never obligated to continue. Naturally, you may cancel at any time for any reason, no questions asked.