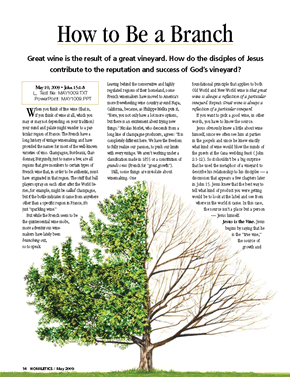 How to Be a Branch
Sunday, May 10, 2009
|
John 15:1-8
Jesus said, "I am the vine, you are the branches." So, what does it mean to be a "branch"?

When you think of fine wine (that is, if you think of wine at all, which you may or may not depending on your tradition) your mind and palate might wander to a particular region of France. The French have a long history of vintage winemaking and have provided the names for most of the well-known varieties of vino. Champagne, Bordeaux, Chardonnay, Burgundy, just to name a few, are all regions that give monikers to certain types of French wine that, in order to be authentic, must have originated in that region. The stuff that ball players spray on each other after the World Series, for example, might be called champagne, but if the bottle indicates it came from anywhere other than a specific region in France, it's just "sparkling wine."

But while the French seem to be the quintessential wine snobs, more adventurous winemakers have lately been branching out, so to speak. Leaving behind the conservative and highly regulated regions of their homeland, some French...
---
Start today. Cancel anytime.
Act now and, for just $6.99 a month or $69.95 a year, you'll receive a full year of this valuable, sermon preparation resource.
Our convenient, continuous-subscription program ensures you'll never miss out on the inspiration you need, when you need it.
You're never obligated to continue. Naturally, you may cancel at any time for any reason, no questions asked.