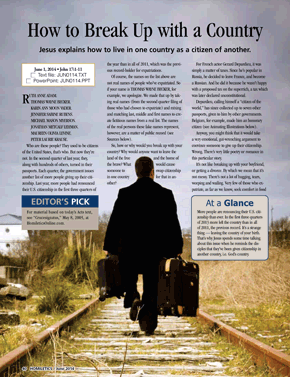 How to Break Up with a Country
Sunday, June 1, 2014
|
John 17:1-11
U.S. citizens are turning in their passports -- renouncing their citizenship -- in record numbers. Do Christians have a citizenship problem, too?
RUTH ANNE ADAM.

THOMAS WAYNE BECKER.

KARIN ANN MOON VADER.

JENNIFER SABINE RUBENS.

MICHAEL MASON MYERSON.

JONATHAN METCALF LEHMAN.

MAUREEN OLIVIA LEVINE.

PETER LAURIE KRAUSE.


Who are these people? They used to be citizens of the United States, that's who. But now they're not. In the second quarter of last year, they, along with hundreds of others, turned in their passports. Each quarter, the government issues another list of more people giving up their citizenship. Last year, more people had renounced their U.S. citizenship in the first three quarters of the year than in all of 2011, which was the previous record-holder for expatriations.

Of course, the names on the list above are not real names of people who've expatriated. So if your name is THOMAS WAYNE BECKER, for example, we apologize. We made that up by taking real names (from the second quarter filing of those who had chosen to expatriate) and mixing and matching last, middle and first names to create fictitious names from a real...
---
Start today. Cancel anytime.
Act now and, for just $6.99 a month or $69.95 a year, you'll receive a full year of this valuable, sermon preparation resource.
Our convenient, continuous-subscription program ensures you'll never miss out on the inspiration you need, when you need it.
You're never obligated to continue. Naturally, you may cancel at any time for any reason, no questions asked.