The GOCHRIST Challenge 1 Peter 2:19-25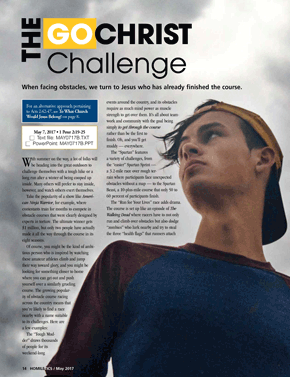 When facing obstacles, we turn to Jesus who has already finished the course.
At a Glance

Obstacle courses are the new wave in fitness and racing, from the popular TV show American Ninja Warrior to long, muddy and grueling courses like the Spartan Beast or the GORUCK Challenge. These courses test the strength and endurance of the participants as they navigate what seem to be impossible obstacles in their way. Then again, maybe the Christian life is the most challenging obstacle course of all!


Editors' Pick

For material based on today's gospel text, see "#YOLO," May 11, 2014, at HomileticsOnline.com.


With summer on the way, a lot of folks will be heading into the great outdoors to challenge themselves with a tough hike or a long run after a winter of being cooped up inside. Many others will prefer to stay inside, however, and watch others exert themselves.

Take the popularity of a show like American Ninja Warrior, for example, where contestants train for months to complete obstacle courses that were clearly designed by experts in torture. The ultimate winner gets $1 million, but only two people have actually made it all the way through the course in its eight seasons.

Of course, you might be the kind of ambitious person who is inspired by watching these amateur athletes climb and jump their way toward glory, and you might be looking for something closer to home where you can get out and push yourself over a similarly grueling course. The growing popularity of obstacle course racing across the country means that you're likely to find a race nearby with a name suitable to its challenges. Here are a few examples:

The "Tough Mudder" draws thousands of people for its weekend-long events around the country, and its obstacles require as much mind power as muscle strength to get over them. It's all about teamwork and community with the goal being simply to get through the course rather than be the first to finish. Oh, and you'll get muddy -- everywhere.

The "Spartan" features a variety of challenges, from the "easier" Spartan Sprint -- a 3.2-mile race over rough terrain where participants face unexpected obstacles without a map -- to the Spartan Beast, a 10-plus-mile course that only 50 to 60 percent of participants finish.

The "Run for Your Lives" race adds drama. The course is set up like an episode of The Walking Dead where racers have to not only run and climb over obstacles but also dodge "zombies" who lurk nearby and try to steal the three "health flags" that runners attach to themselves. You need to have at least one of those flags at the finish in order to be counted among the living and be eligible for prizes.

While most people think of obstacle courses primarily as a military training exercise, a race like the GORUCK Challenge takes the best of the military component and brings it into the civilian world. Teams of 30 people, all wearing weighted rucksacks, engage in 8 to 10-hour "tours" where a barking "drill sergeant" orders them through a variety of physical and mental challenges that require teamwork and stamina. While soldiers get paid to endure this kind of abuse, you will actually pay for it in more ways than one!

Simply surviving these courses would seem to be a worthy goal for anyone who lines up at the start. To do so, you need to train your body and your mind, and it always helps to have a few friends to give you a hand along the way.


The "Jesus Obstacle"

Even if you're not in the kind of physical shape to tackle the Tough Mudder, you might consider a different sort of endurance test. It's called the Christian life, or its variation, discipleship.

Today's epistle reading offers a course description of the obstacles and challenges followers of Jesus face. In fact, these are the hurdles and hitches that Jesus himself overcame in order to finish well. His cross-bearing followers must be willing to take on the same challenges that the unbelieving world will throw in front of them.

The writer (let's say Peter himself, for purposes of simplicity) asserts in this chapter that Jesus presents a kind of obstacle to unbelievers. He is the "living stone, rejected by mortals yet chosen and precious in God's sight," a "cornerstone" that the builders rejected (vv. 4, 6). To those who believe, he is the precious foundation on which faith is built, but to others he is "a stone that makes them stumble and a rock that makes them fall" (v. 8). They stumble over the "Jesus obstacle" because they disobey his word and fail to see him as the cornerstone of the whole creation.

Because the world stumbles over the Jesus obstacle, they will see his followers as problems as well. Peter writes to the dispersed young churches of the Roman Empire in Pontus, Galatia, Cappadocia, Asia and Bithynia who find themselves at odds with the social norms of their pagan neighbors and experience persecution as a result (1:1). When the Roman world came up against these fledgling Christian communities, they saw them as obstacles to be removed rather than challenges to their worldview that needed to be understood. There are several significant ways in which the early Christian churches were out of step with the Roman world, and in his book Destroyer of the gods: Early Christian Distinctiveness in the Roman World, New Testament scholar Larry Hurtado cites these as reasons for the rest of the culture to see them as "different, odd, and even objectionable."

First, Christians refused to honor the Roman gods upon whom the pagans believed the social and political order of the empire depended. Followers of Jesus had no images of their deity, no altars or sacrifices, no temples or shrines, and (at least at that point) no priesthood. As such, they were not considered to be a "religion" and, in fact, many Romans considered them to be atheists. A failure to honor the gods of Rome could bring disaster on the empire, and claiming a crucified man as a king who had been raised from the dead seemed to be not only foolish but a dangerous notion.

Second, they were a "bookish" people who read sacred texts in their gatherings, which included men and women of different social classes as well as slaves all gathered together as equals. In the Roman world, religious texts were only read by priests to an elite few. The circulation of these texts meant that the movement grew despite the slow means of communication in the empire.

Third, the early church challenged the social behaviors of the Roman world. Whereas Romans often exposed unwanted babies to the elements leaving them to die, Christians raised their own children and even adopted some of those who were rejected by their neighbors. Women were expected to be faithful in marriage, but men could fool around at will. Christians, on the other hand, insisted that both women and men needed to be faithful to one another in monogamous, lifelong marriage. While Romans enjoyed the blood sport of the gladiator arena, it was the Christians who refused to play along. Indeed, many would die in the arena themselves as a result.


A church that thrives in adversity

To be a Christian in the Roman world meant running a tough course and having a hard climb ahead. We can argue that it's no different today in a culture that pushes us to worship the gods of consumerism, wealth, sex and violence; that values what is new and novel over that which is ancient truth; and whose social norms are those of the sexual revolution rather than Scripture.

The fascinating thing, however, is that the early church grew exponentially in spite of these obstacles. It wasn't because of their excellent preaching or attractive worship (things we value today), but because of their patient suffering amid persecution. Many pagans, observing these early believers maintain their faith and their virtue in the face of terrible suffering, wanted to know how and why they did it. They were attracted to people who didn't play by the usual Roman rules -- rules which left people ultimately empty -- and who seemed to have a greater kingdom in mind.

For Peter, this was the real finish line for the Christian life -- the goal to which every follower of Jesus should aspire with his or her life. "Conduct yourselves honorably among the Gentiles, so that, though they malign you as evildoers, they may see your honorable deeds and glorify God when he comes to judge" (v. 12). For Peter, living as good citizens and enduring suffering for the faith was the key to attracting others and introducing them to Jesus.       Lest that sound too harsh for modern ears, Peter reminds us that Jesus himself endured similar circumstances. As Paul reminds us in Philippians 2:7, Jesus himself had "taken the form of a slave" when he became human and yet endured through the obstacles of suffering thrown in his way.

He was tempted as we are to follow the social norms as the path of least resistance, but "he committed no sin" (v. 22).

He spoke the truth. Rather than bend his truth to sound better to the itching ears of the culture, "no deceit was found in his mouth" (v. 22).

He did not use violence. When he was abused physically and verbally, he did not return that abuse (v. 23). In fact, he was silent in the midst of such abuse, only uttering forgiveness. That's a lesson we can learn in a day when social media all but begs us to retaliate!

He did not use threats. When he suffered, even on the cross, he did not threaten people with his wrath, but rather relied on God's justice to set things right (v. 23).

In short, Jesus provided the example for those who would follow him. Running the race isn't about staying on the sidelines, bypassing obstacles or retaliating against those who malign us, but about running with perseverance knowing the ultimate goal. For Jesus, that goal was saving the very world that crucified him. For his followers, it is doing our best to join him in that race.


Running with Jesus

But Jesus isn't just an example to us in his suffering. Through his own perseverance on the cross and then his rising from the dead, he enables us to run the race behind him. We can do so, no longer carrying the heavy rucksack of sin. When we wander off course, Jesus acts more like a shepherd than a drill sergeant, for he is the "guardian of our souls" (v. 25).

In a world that is increasingly hostile to people of faith, it takes a certain amount of guts to want to engage in the obstacle course of discipleship -- think of it as the GOCHRIST Challenge. It would be easy to quit, to forgo the obstacles or to merely stand on the sidelines. Peter, however, urges us to run with boldness, being patient in suffering and being an example to others in our conduct. Jesus navigated these obstacles all the way to the end and ended on top of the world at the right hand of the Father.

He urges us to follow his example, to lean into the hard stuff, and to keep our eyes on the finish line!


Possible Preaching Themes:

+ Endurance in the midst of suffering

+ Trusting in the justice of God

+ Freed from sin to live for righteousness


Participation Pointers:

+ Ask one or two people in a congregation to give a little synopsis of what it takes to do endurance training.

--Rev. Kristi Franken, Magnolia UMC, Adrian, Minnesota.

+ Go online and find a copy of Henry Wads-worth Longfellow's poem "Excelsior!" If it interests you, ask a student, or someone who likes drama or performance art to recite it, and then you, the preacher, might have a dialogue with the reciter as to the meaning of the poem.


Sources:

"11 great obstacle course races: Choose the best race for you!" bodybuilding.com. July 11, 2012. Retrieved November 19, 2016.

Hurtado, Larry. Destroyer of the gods: Early Christian Distinctiveness in the Roman World. Waco: Baylor University Press, 2016.
---
Worship Resources
Music Links
Hymns

Christ Is Made the Sure Foundation

Wherever I May Wander

How Firm a Foundation

Praise†

Yes, We All Agree

Change My Heart, O God

Chosen Generation

†For licensing and permission to reprint or display these songs on screen, go to ccli.com. The Praise songs suggested by Homiletics can be found in most cases on Google by using the title as the search term.