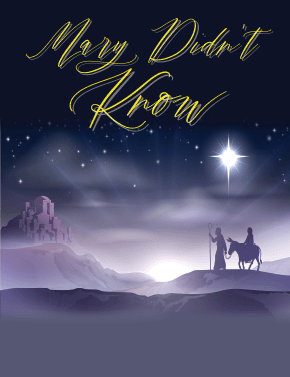 Mary Didn't Know
Sunday, December 24, 2023
|
Luke 1:26-38
When Gabriel gave a teenage Mary the heads-up about her pregnancy, she could not have possibly known what to expect in the next nine months — or the rest of her life.
Almost 40 years ago, songwriter Mark Lowry scribbled down some lyrics for a Christmas song about Mary, the mother of Jesus. After all, people were canting carols set in the bleak midwinter about herald angels singing from the realms of glory while shepherds watched their flocks by night, all seated on the ground. And, of course, about sweet, little Jesus born on this silent night. Few carols paid homage to the teenage girl who had a baby 2,000 years ago in a manger in the little town of Bethlehem, Judea.
The song that Lowry wrote reached Number 6 on CCM Magazine's Adult Contemporary Chart. At the time, Lowry was with the Gaither Vocal Band, and he recorded his song on their 1998 Christmas album, Still the Greatest Story Ever Told. Today, the song has become a modern Christmas classic, recorded by hundreds of artists over the years, and different versions have periodically reached the top 10 in the Billboard R&B and Holiday charts.
His song consists of a series of...