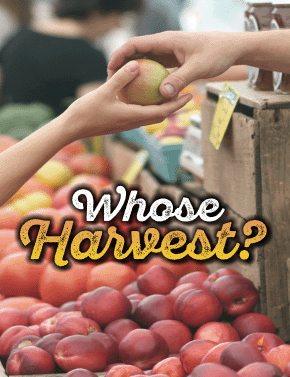 Whose Harvest?
Sunday, November 26, 2023
|
Matthew 25:31-46
The harvest belongs to God, and it's a harvest of love.
Many worship services around Thanksgiving will have a harvest theme. As the hymn says, "All is safely gathered in, ere the winter storms begin …" And in many parts of the United States, it had better be gathered by now or it's going to freeze!
Harvest is not something most of us typically experience unless we live in farm country. For urban and suburban America, food comes dried or frozen. If it's fresh, it's hauled to the supermarket in refrigerated trucks. Thanks to the wonders of technology and transportation, even seasonal produce is now available year-round. The grocery-store chains haul it in — sometimes even fly it in — from Florida, California or even other countries.
If any of us plant vegetable gardens in the summer, it's by choice. We do it not because we need to, but because we enjoy the taste of those fresh tomatoes. In our lives, the difference between a good harvest and a bad one is a couple dollars per pound in...