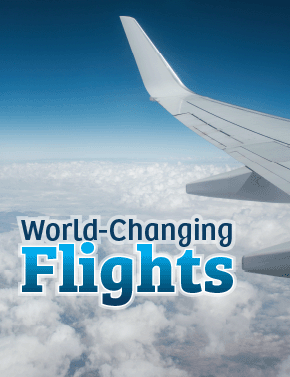 World-Changing Flights
Sunday, September 10, 2023
|
Exodus 12:1-14
There's one flight that's always on time, and it doesn't matter whether you're traveling alone or with a group.
First came the Passover. Then the Archer. Both were world-changing flights.
In ancient times, God passed over the land of Egypt, struck down the first-born of the oppressive Egyptians, and then liberated the people of Israel from captivity. This powerful act of God was an unexpected divine innovation.
Today, the soon-to-be-released Archer vehicle can pass over the United States, fulfilling the dreams of all who have hoped to own a flying car. The Archer "looks like a space-age tadpole that's sprouted spike-tipped wings," says Fast Company magazine. It "can take off and land vertically, meaning that it doesn't require a runway, and once it's aloft, it flies like a small airplane."
Talk about an unexpected innovation!
Archer Aviation executives are developing a flying taxi service, one that will allow people to soar over highway traffic. If the Archer vehicle is purchased by airlines, you'll be able to avoid the airport experience...