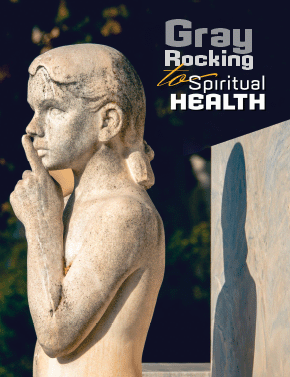 Gray Rocking to Spiritual Health
Sunday, July 9, 2023
|
Romans 7:15-25a
The person you most want to avoid — and need to avoid — is yourself!
Some people you just don't want to run into. But it happens, inadvertently of course! Maybe it's the pompous neighbor down the street, an old "friend" from college, or your nemesis in the lunchroom. You dodge, duck, turn around and walk away faster than a scalded cat. You'll get something from the vending machine instead.
You might see him across the street while you're rolling your trash can to the curb or waiting in line at the coffee shop. Then, regrettably, he sees you, and you avert your eyes and make a beeline in the opposite direction. Why? Because you know him. He is narcissistic and a master manipulator. He uses passive-aggressive behavior to get what he wants. He's abusive and threatening. He withholds information or spreads rumors. He is dishonest. He thinks he's charming and flirtatious, and not above suggesting that if you're nice to him, he'll be nice to you.
You've met people like this. You may be...