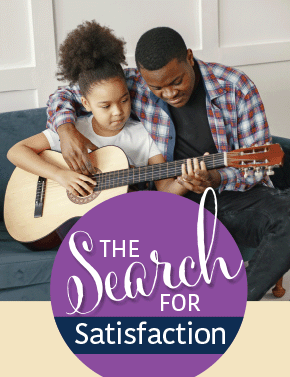 The Search for Satisfaction
Sunday, January 29, 2023
|
Micah 6:1-8
Micah has some advice for The Rolling Stones.
"It's an old man dancing like a chicken and singing," said the teenage girl, laughing uncontrollably as she watched a video in her bedroom. Her father, a professor named Arthur Brooks, poked his head into her room to see what was going on.
In a second, he figured it out. She was watching rock star Mick Jagger, who turns 80 this year, singing The Rolling Stones' hit "(I Can't Get No) Satisfaction."
The song has been a favorite of Baby Boomers and Gen Xers for decades. It hit the pop charts when Professor Brooks was 1 year old.
After all these years, Jagger still can't get no … satisfaction.
Writing in The Atlantic, Brooks says that as we move through life, "satisfaction — the joy from fulfillment of our wishes or expectations — is evanescent. No matter what we achieve, see, acquire, or do, it seems to slip from our grasp. … Satisfaction, I told my daughter, is the greatest paradox of human life. We...