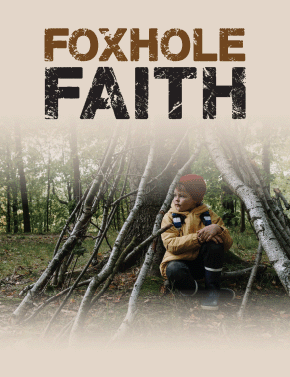 Foxhole Faith
Sunday, January 22, 2023
|
Psalm 27:1, 4-9
This psalm is for anyone who's currently stuck in a hole, has been so in the past, or fears finding themselves in one in the future.
David, the presumptive author of this psalm, clearly values safety. He doesn't like to be afraid. In verse 1 alone, he mentions the fear factor twice! Perhaps this is why the psalm reads like a foxhole monologue. It invokes images of "evildoers," "adversaries and foes," armies, enemies and violence. David longs for security, cover and "shelter in the day of trouble" (v. 5). His heart faints for fear and all of his courage has vanished. He remembers better days when he would visit the "house of the LORD," and be full of faith.
But now he's in a foxhole, his enemies attacking from all sides. And as we know, there are no atheists in foxholes. Therefore, it comes as no surprise that David is calling for air support — the Lord of the air, whom he calls his "light" and "salvation" (v. 1).
So, this psalm is for all who feel they're in a foxhole now, or felt so in the past, or might find...