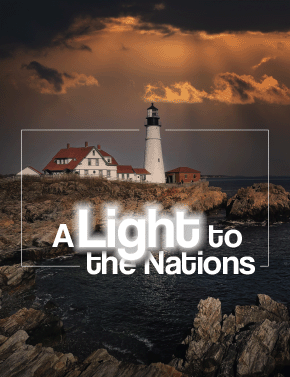 A Light to the Nations
Sunday, January 15, 2023
|
Isaiah 49:1-7
A lighthouse shines its light out into in the darkness. And we can help the light reach the ends of the Earth.
And I thank God for the Lighthouse, I owe my life to him.
Jesus is the Lighthouse and from the rocks of sin,
He has shown the light around me, so that I might clearly see.
If it wasn't for the Lighthouse, where would this ship be?
—"The Lighthouse," by Ronny Hinson. Recorded by the Happy Goodmans, J.D. Sumner and the Stamps, The Oak Ridge Boys, the Gaithers, et al. The song was once on the charts for more than 40 weeks.
There's something romantic about a lighthouse. It's hauntingly picturesque, standing tall against the elements, offering a beacon of hope in the darkest night to a lone ship seeking safe harbor. A lighthouse is a symbol of hope against all odds. Even in the hour of one's most desperate need, a light on a distant shore signals safety and salvation.
Early lighthouses were not "houses" at all. They might have been simple piles of timber set afire on a hilltop as a light to guide a three-masted sailing ship...