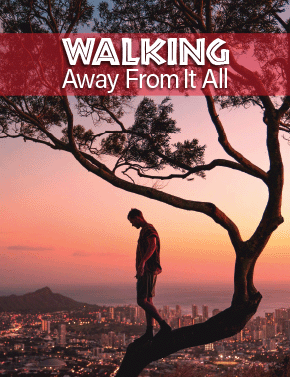 Walking Away From It All
Sunday, May 1, 2022
|
John 21:1-19
Can we leave everything behind when Jesus says, "follow me"?
Dustin Snyder had enough. He was tired of the long work weeks, low wages and grumpy customers. He was assistant general manager of a McDonald's restaurant in Bradford, Pa., but in early September 2021, he drafted a petition to the regional office and invited his workers to sign it.
"We are all leaving," his petition stated, "and hope you find employees that want to work for $9.25 an hour." Nearly all of the 24 day-shift employees added their names. (They all knew that, just 20 miles away, employees at a McDonald's across the border in New York did identical work, receiving that state's $15-an-hour minimum wage.)
It wasn't a strike. It wasn't a protest. To Dustin and his low-wage employees, it was a simple statement of fact.
Dustin faxed the petition to the regional office in Buffalo. Moments later, his phone rang. It was the regional supervisor. "Why did you do it?" she wanted to know.
"I was trying to get...