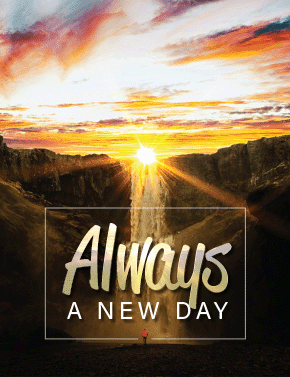 Always a New Day
Sunday, April 3, 2022
|
Isaiah 43:16-21
Although Lent may seem to some to be a season of restrictions and limitations, in fact it provides us multiple opportunities for a fresh start. Every day is a new day with God.
"So, how are you doing with your Lenten discipline?" You may ask your congregation this question … if you dare.
Does it seem a little dangerous to ask this question five weeks into Lent? Those who haven't adopted a Lenten discipline by this time aren't likely to do so. For those who have, chances are pretty good — human nature being what it is — that by now they've failed to follow through in one way or another.
We all know what it's like to set out with great enthusiasm on a grand plan for some worthwhile project, then get lost in the weeds. Let's say you decide to exercise more often, or eat healthy, or set aside a daily early-morning prayer time. Day One is great. Day Two, pretty good. But then comes that morning when you roll out of bed, fully intending to keep that contract with yourself and with God. Then you look at your to-do list for the day and it's all over. Not today, you say to yourself. Too busy....