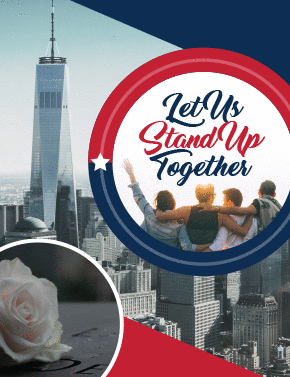 Let Us Stand Up Together
Sunday, September 12, 2021
|
Isaiah 50:4-9a
Twenty years after the terrorist attacks of 9/11, we need to face our challenges as united Christians alongside other people of faith in a truly United States of America. But how do we do this?
Some anniversaries are joyful occasions, but not this one.
Twenty years ago, on September 11, 2001, al-Qaeda terrorists took control of four passenger airliners. Two were flown into the towers of the World Trade Center in New York City. A third was crashed into the Pentagon. And the fourth was heading toward Washington, D.C., but crashed in a Pennsylvania field when passengers bravely overwhelmed the terrorists.
Almost 3,000 people died, 25,000 were injured, and many others suffered long-term health problems.
9/11 stands as the deadliest terrorist attack in recent history.
In response, the United States launched a War on Terror and invaded Afghanistan to overthrow the Taliban. This group had been protecting al-Qaeda terrorists and refusing to hand over Osama bin Laden, who took responsibility for the attacks. After 10 long years, bin Laden was located in Pakistan and killed in a U.S. raid.
So how did 9/11 affect us?
United We Stand
The act of terrorism was like the...