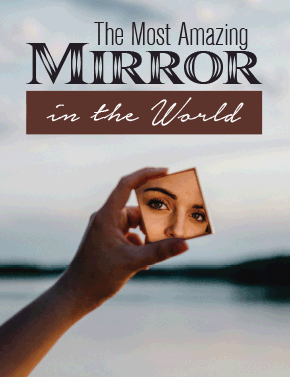 The Most Amazing Mirror in the World
Sunday, August 29, 2021
|
James 1:17-27
Most people look at themselves in a mirror more than 20 times a day. The apostle James has something to say about this habit.
In the middle of today's second reading, the apostle James makes an interesting and perceptive comparison. The points of reference are two types of people. James says: "For if any are hearers of the word and not doers, they are like those who look at themselves in a mirror; for they look at themselves and, on going away, immediately forget what they were like. But those who look into the perfect law, the law of liberty, and persevere, being not hearers who forget but doers who act — they will be blessed in their doing" (vv. 23-25).
The operative word in this reading is "mirror." And since James pins his point on this word, hoping we will understand the metaphor, let's start there.
Studies show that people check the mirror upwards of 40 times a day. For some, looking in a mirror is simply a matter of gathering data; for others, it's to confirm the worst. To this end, we can always find a mirror, and perhaps that's why we take...