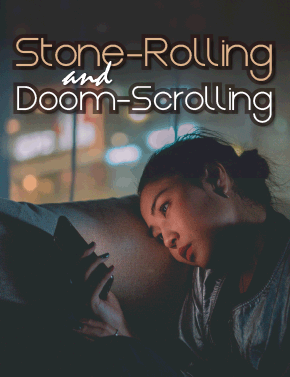 Stone-Rolling and Doom-Scrolling
Sunday, April 4, 2021
|
Mark 16:1-8
The good news of Easter is that God has broken the vicious cycle of negativity. The stone has been rolled back, Jesus has been raised, and our risen Lord is ahead of us and waiting for us.
She checks her social media around 10 times a day. Twitter and Facebook are her main sites, but she also looks at Google for news. Since the start of the pandemic, her habit has increased significantly.
"I'm a doom-scroller," she admits to the Healthline website. Yes, this 26-year-old speech therapist confesses that she has a problem. Doom-scrolling is the act of endlessly scrolling down news apps, Twitter, and social media, reading all the bad news. "The pandemic has exacerbated these habits in many ways," says a New York psychologist, "including the fact that there is no shortage of doomsday news."
If doom-scrolling is part of your daily routine, you are not alone. Twitter use has jumped 24 percent since the start of the pandemic last year, and Facebook is up 27 percent.
The problem with this habit is that it can lead to higher stress. We think that keeping up with the latest news will lessen our anxiety, but it increases it....