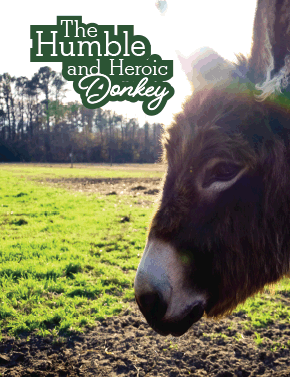 The Humble and Heroic Donkey
Sunday, March 28, 2021
|
Mark 11:1-11
Today should be called Donkey Sunday, not Palm Sunday. The colt that Jesus rode can teach us valuable lessons about carrying our Lord in the world.
Palm Sunday is named for the "leafy branches" that people cut in the fields and placed on the road in front of Jesus (Mark 11:8). It's the day we think of crowds shouting "Hosanna" and Jesus entering Jerusalem in triumph, hailed as the "the one who comes in the name of the Lord!" (v. 9). Palm Sunday is a day of celebration, with people cheering the One they hoped would usher in "the kingdom of our ancestor David!" (v. 10).
What we usually don't think about is the colt that Jesus rode into town, described in Matthew as "the foal of a donkey" (21:5) and in John as "a donkey's colt" (12:15).
And that's a shame. Because today could easily be called "Donkey Sunday."
Unfortunately, donkeys have "a bad reputation," says archaeologist Fiona Marshall. "They're considered stupid, and stubborn and lowly." But this is unfair and inaccurate. Donkeys...