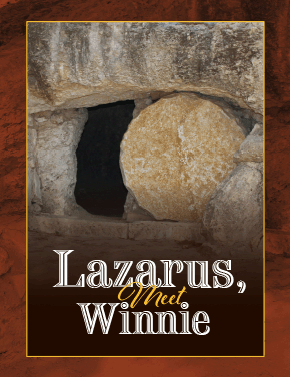 Lazarus, Meet Winnie
Sunday, March 29, 2020
|
John 11:1-45
If you had to pick a book that most influenced your life, what would it be? Winnie-the-Pooh, by A.A. Milne?
The greatest book of all time. An unforgettable story, told by an incredibly gifted author. At the top of the list are:
In Search of Lost Time, by Marcel Proust, a recollection of the narrator's childhood.
Ulysses, by James Joyce, the passage of a man through Dublin on an ordinary day in 1904.
Don Quixote, by Miguel de Cervantes, the story of a retired man who becomes obsessed with chivalry.
The Great Gatsby, by F. Scott Fitzgerald, a chronicle of the Roaring 1920s.
Moby Dick, by Herman Melville, the tale of Captain Ahab and his pursuit of a white whale.
Yes, these are great books, all of them. The top five, according to a website called "The Greatest Books," which created a master list out of 122 other best-books lists. No one doubts their greatness.
But what is the most influential book of all time? Which story has had the greatest impact on human life?
The Yale Alumni Magazine recently published a list of books that have changed people's...