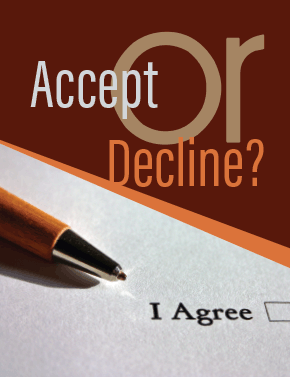 Accept or Decline?
Sunday, November 17, 2019
|
2 Thessalonians 3:6-13
When we install new software on our smartphones or laptops, we need to accept or decline the terms and conditions. But to read all of these conditions would take hours! Who reads this stuff? The epistle text reminds us that when we sign up to follow Jesus, there are terms and conditions to accept or decline.
It's the "Age of the App! These mini-programs are now found everywhere in the digital world: on desktops, laptops, tablets and smartphones. They tell us the weather, order our lunch, arrange our dating partners and even answer our doorbells.
So you download an app — let's say "Bear," a note-taking app rated as one of the best new apps of 2019 — and you're all set. Or so you thought. You're now staring at a window on your device with a teeny check-box, beside which are the words: "I have read and accept the terms and conditions for the use of this product."
Out of curiosity, you may scroll down and peruse pages of fine-print legalese, but you are eager to enjoy your new app, so you simply mark the "I agree" option and move on.
Of course, you are not the only one who does this. These "terms and conditions" (T&C) paragraphs and privacy policies on average are more than 2,500 words long!...