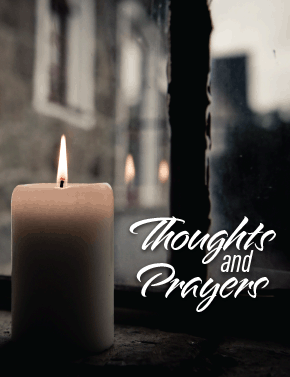 Thoughts and Prayers
Sunday, November 3, 2019
|
2 Thessalonians 1:1-4, 11-12
After a national tragedy, many people send their "thoughts and prayers" to the families of the victims. Some critics, however, say that such statements have little meaning if not accompanied by meaningful action. So, should we stop sending thoughts and prayers to grieving people?
Have you noticed that the phrase "thoughts and prayers" has become fodder in the struggle over gun control in the United States?
At least since the time of the Columbine school massacre 20 years ago, "thoughts and prayers" has been almost standard vocabulary in official statements of condolences from politicians and other public figures after major tragedies and natural disasters. "Our thoughts and prayers are with all those affected by this [pick one] cowardly attack, horrific shooting, senseless tragedy, unprecedented calamity."
And for a time, the phrase seemed a good combination of words. "Prayers" was a shorthand way of saying that all of us who are religious are in sympathy with you and are speaking to God on your behalf, and "thoughts" indicated that those of us who aren't religious are feeling for you as well. It was like saying "Happy holidays and merry Christmas" to cover all fronts.
But more...