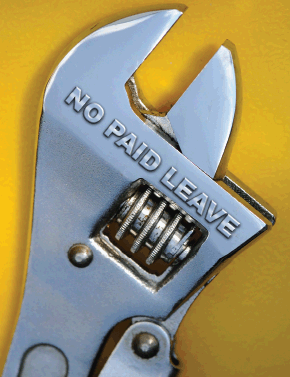 No Paid Leave
Sunday, February 10, 2019
|
1 Corinthians 15:1-11
Thousands of federal and state employees are on paid leave pending some sort of investigation. The apostle Paul discovers that in God's government, there is no such thing as administrative paid leave.
It was a year ago this coming Thursday, Valentine's Day, that a gunman opened fire with an assault rifle at Marjory Stoneman Douglas High School in Parkland, Florida, He killed 17 students and staff members and injured 17 others.
On March 14, a month later, students across the nation walked out of their classrooms as a part of #Enough! National School Walkout. The nationwide protest against gun violence lasted for 17 minutes (symbolic of the 17 individuals who died). Some of the students who walked out were threatened with suspension, but many schools allowed the protests to take place, framing them as memorials for the fallen students.
In Rocklin, California, high school teacher Julianne Benzel chose the nationwide walkout as an opportunity to launch a discussion about looking for the missing perspective when assessing arguments and media coverage. She asked if the school administration would be so generous, for example, in allowing the walkout if the issue students were...