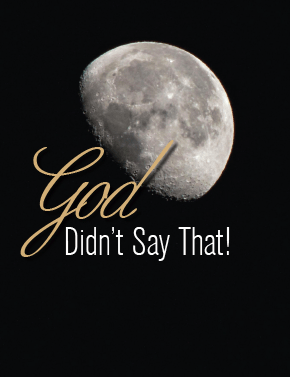 God Didn't Say That!
Sunday, January 13, 2019
|
Isaiah 43:1-7
Abraham Lincoln did not say that "the problem about quotes on the Internet is that no one can confirm their authenticity." And you'd be surprised to read what people erroneously believe God has said.
Does the Bible say, "God will not give you more than you can handle"? Many Christians believe so, but you won't find it in Holy Scriptures. This is one of many quotations inaccurately attributed to the Bible. Others include:
"This too shall pass."
"Cleanliness is next to godliness."
"God works in mysterious ways."
"Everything happens for a reason."
"Love the sinner. Hate the sin."
"God helps those who help themselves."
Well, guess what? The Bible doesn't make any of these claims.
We need to be careful, because the words of the prophet Isaiah in today's Old Testament reading can be easily misunderstood and misapplied. When God says through the prophet, "When you pass through the waters, I will be with you; and through the rivers, they shall not overwhelm you" (43:2), God is not saying, "I will not give you more than you can handle." Nor is God...