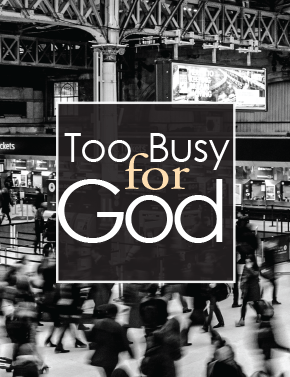 Too Busy for God
Sunday, November 25, 2018
|
Psalm 132:1-12 (13-18)
Some concert venues now require that patrons stow their smartphones in smart pouches that renders them temporarily unusable. The concertgoer still has his or her phone, but he or she cannot record the show or take photos.
Earlier this year, Alexandra S. Levine, a Metro reporter for The New York Times, wrote of being forced to go phoneless while viewing a corruption trial. The courthouse had required observers to check their electronics before entering the building. Levine writes, "The experience was at once inconvenient and enjoyable, disorienting and liberating." She also said after a day with no texting, email or internet, it occurred to her that the courtroom "might be one of the few spots left in the city where New Yorkers could fully disconnect."
The experience led Levine to explore what other venues in the city required one to temporarily cut the cyber pipeline to the rest of the world. But even in a place as large and varied as New York City, it mostly came down to courtrooms, federal buildings, jails, some museums, a few restaurants and various performance sites.
Generally, the museums and restaurants simply ask visitors to shut off their electronic gadgets, but some...