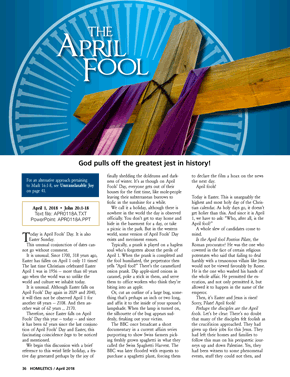 The April Fool
Sunday, April 1, 2018
|
John 20:1-18
It has been more than 60 years since Easter fell on April Fools' Day. We have to say something about this.
Today is April Fools' Day. It is also Easter Sunday.

This unusual conjunction of dates cannot go without comment.

It is unusual. Since 1700, 318 years ago, Easter has fallen on April 1 only 11 times! The last time Christians celebrated Easter April 1 was in 1956 -- more than 60 years ago when the world was so unlike the world and culture we inhabit today.

It is unusual. Although Easter falls on April Fools' Day again in 2029 and 2040, it will then not be observed April 1 for another 68 years -- 2108. And then another wait of 62 years ... 2170.

Therefore, since Easter falls on April Fools' Day this year -- today -- and since it has been 62 years since the last conjunction of April Fools' Day and Easter, this fascinating coincidence begs to be noticed and mentioned.

We begin this discussion with a brief reference to this weird little holiday, a festive day generated perhaps by the joy of finally shedding the doldrums and darkness of winter. It's as though on April Fools' Day, everyone gets...
---
Start today. Cancel any time.
Act now and, for just $7.99 a month or $69.95 a year, you'll receive a full year of this valuable sermon preparation resource.
Our convenient, continuous-subscription program ensures you'll never miss out on the inspiration you need, when you need it.
You're never obligated to continue. Naturally, you may cancel at any time for any reason, no questions asked.