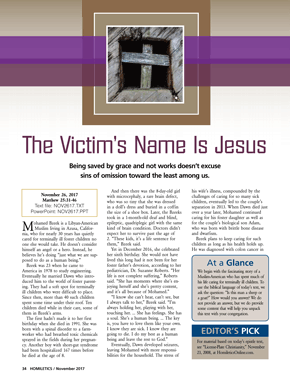 The Victim's Name Is Jesus
Sunday, November 26, 2017
|
Matthew 25:31-46
Will non-Christians get into heaven?
Mohamed Bzeek is a Libyan-American Muslim living in Azusa, California, who for nearly 30 years has quietly cared for terminally ill foster children no one else would take. He doesn't consider himself an angel or a hero. Instead, he believes he's doing "just what we are supposed to do as a human being."

Bzeek was 23 when he came to America in 1978 to study engineering. Eventually he married Dawn who introduced him to the world of foster parenting. They had a soft spot for terminally ill children who were difficult to place. Since then, more than 40 such children spent some time under their roof. Ten children died while in their care, some of them in Bzeek's arms.

The first hadn't made it to her first birthday when she died in 1991. She was born with a spinal disorder to a farmworker who had breathed toxic chemicals sprayed in the fields during her pregnancy. Another boy with short-gut syndrome had been hospitalized 167 times before he died at the age of 8.

And then there was the 8-day-old ...
---
Start today. Cancel anytime.
Act now and, for just $6.99 a month or $69.95 a year, you'll receive a full year of this valuable, sermon preparation resource.
Our convenient, continuous-subscription program ensures you'll never miss out on the inspiration you need, when you need it.
You're never obligated to continue. Naturally, you may cancel at any time for any reason, no questions asked.