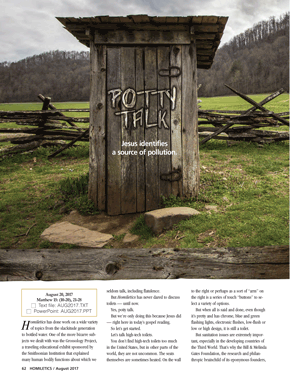 Potty Talk
Sunday, August 20, 2017
|
Matthew 15:(10-20) 21-28
We're talking toilets. Yes. But only because Jesus talks about toilets in this text.
Homiletics has done work on a wide variety of topics from the slackitude generation to bottled water. One of the more bizarre subjects we dealt with was the Grossology Project, a traveling educational exhibit sponsored by the Smithsonian Institution that explained many human bodily functions about which we seldom talk, including flatulence.

But Homiletics has never dared to discuss toilets — until now.

Yes, potty talk.

But we're only doing this because Jesus did — right here in today's gospel reading.

So let's get started.

Let's talk high-tech toilets.

You don't find high-tech toilets too much in the United States, but in other parts of the world, they are not uncommon. The seats themselves are sometimes heated. On the wall to the right or perhaps as a sort of "arm" on the right is a series of touch "buttons" to select a variety of options.

But when all is said and done, even though it's pretty and has chrome, blue and green flashing lights, electronic flushes, low-flush or low ...
---
Start today. Cancel anytime.
Act now and, for just $6.99 a month or $69.95 a year, you'll receive a full year of this valuable, sermon preparation resource.
Our convenient, continuous-subscription program ensures you'll never miss out on the inspiration you need, when you need it.
You're never obligated to continue. Naturally, you may cancel at any time for any reason, no questions asked.