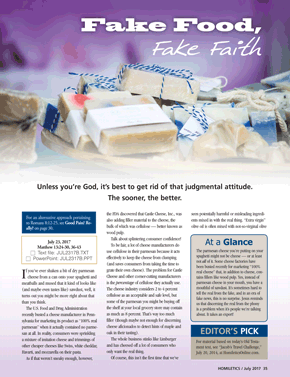 Fake Food, Fake Faith ...
Sunday, July 23, 2017
|
Matthew 13:24-30, 36-43
A lot of people like to cover their pasta with a liberal layer of parmesan cheese. It's possible, however, that this cheese has a lot of filler, like wood shavings — sawdust, basically. It's fake cheese.
If you've ever shaken a bit of dry parmesan cheese from a can onto your spaghetti and meatballs and mused that it kind of looks like (and maybe even tastes like) sawdust, well, it turns out you might be more right about that than you think.

The U.S. Food and Drug Administration recently busted a cheese manufacturer in Pennsylvania for marketing its product as "100% real parmesan" when it actually contained no parmesan at all. In reality, consumers were sprinkling a mixture of imitation cheese and trimmings of other cheaper cheeses like Swiss, white cheddar, Havarti, and mozzarella on their pasta.

As if that weren't sneaky enough, however, the FDA discovered that Castle Cheese, Inc., was also adding filler material to the cheese, the bulk of which was cellulose -- better known as wood pulp.

Talk about splintering consumer confidence!

To be fair, a lot of cheese manufacturers do use cellulose in their parmesan because it acts effectively to keep the cheese from clumping (and saves...