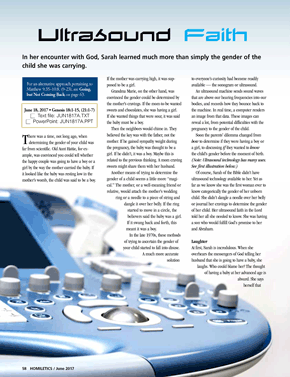 Ultrasound Faith
Sunday, June 18, 2017
|
Genesis 18:1-15, (21:1-7)
The matriarch Sarah could not have imagined anything like ultrasound technology. But she understood biology. The idea that she could have a baby? Laughable.
There was a time, not long ago, when determining the gender of your child was far from scientific. Old Aunt Hattie, for example, was convinced you could tell whether the happy couple was going to have a boy or a girl by the way the mother carried the baby. If it looked like the baby was resting low in the mother's womb, the child was said to be a boy. If the mother was carrying high, it was supposed to be a girl.

Grandma Marie, on the other hand, was convinced the gender could be determined by the mother's cravings. If the mom-to-be wanted sweets and chocolates, she was having a girl. If she wanted things that were sour, it was said the baby must be a boy.

Then the neighbors would chime in. They believed the key was with the father, not the mother. If he gained sympathy weight during the pregnancy, the baby was thought to be a girl. If he didn't, it was a boy. Maybe this is related to the previous thinking. A mom craving sweets might share them with her husband.

Another means of trying...