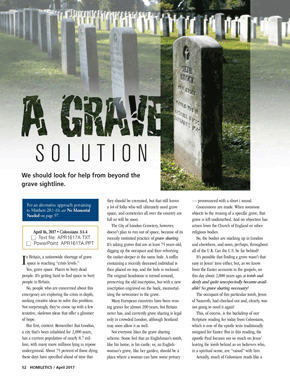 A Grave Solution
Sunday, April 16, 2017
|
Colossians 3:1-4
Some big cities have a cemetery problem. There's not enough space to bury the dead. So, grave-sharing is a new approach that's gaining momentum.
In Britain, a nationwide shortage of grave space is reaching "crisis levels."

Yes, grave space. Places to bury dead people. It's getting hard to find space to bury people in Britain.

So, people who are concerned about this emergency are exploring the crisis in depth, seeking creative ideas to solve this problem. Not surprisingly, they've come up with a few tentative, skeleton ideas that offer a glimmer of hope.

But first, context: Remember that London, a city that's been inhabited for 2,000 years, has a current population of nearly 8.7 million, with many more millions lying in repose underground. About 75 percent of those dying these days have specified ahead of time that they should be cremated, but that still leaves a lot of folks who will ultimately need grave space, and cemeteries all over the country are full or will be soon.

The City of London Cemetery, however, doesn't plan to run out of space, because of its recently instituted practice of grave sharing. It's taking graves that...
---
Start today. Cancel anytime.
Act now and, for just $6.99 a month or $69.95 a year, you'll receive a full year of this valuable, sermon preparation resource.
Our convenient, continuous-subscription program ensures you'll never miss out on the inspiration you need, when you need it.
You're never obligated to continue. Naturally, you may cancel at any time for any reason, no questions asked.