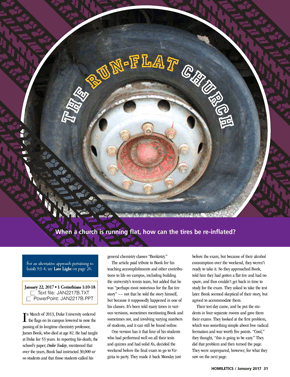 The Run-Flat Church
Sunday, January 22, 2017
|
1 Corinthians 1:10-18
Have a flat tire? Today, there are many ways to fix a flat, or a schism -- if you will. The better solution, however, may be to not have a flat at all. Why not use run-flat tires?
In March of 2013, Duke University ordered the flags on its campus lowered to note the passing of its longtime chemistry professor, James Bonk, who died at age 82. He had taught at Duke for 53 years. In reporting his death, the school's paper, Duke Today, mentioned that over the years, Bonk had instructed 30,000 or so students and that those students called his general chemistry classes "Bonkistry."

The article paid tribute to Bonk for his teaching accomplishments and other contributions to life on campus, including building the university's tennis team, but added that he was "perhaps most notorious for the flat tire story" -- not that he told the story himself, but because it supposedly happened in one of his classes. It's been told many times in various versions, sometimes mentioning Bonk and sometimes not, and involving varying numbers of students, and it can still be found online.

One version has it that four of his students who had performed well on all their tests and quizzes and ...
---
Start today. Cancel anytime.
Act now and, for just $6.99 a month or $69.95 a year, you'll receive a full year of this valuable, sermon preparation resource.
Our convenient, continuous-subscription program ensures you'll never miss out on the inspiration you need, when you need it.
You're never obligated to continue. Naturally, you may cancel at any time for any reason, no questions asked.