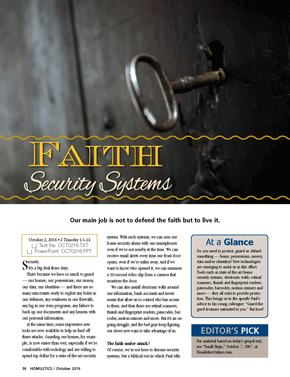 Faith Security Systems
Sunday, October 2, 2016
|
2 Timothy 1:1-14
State-of-the-art home security systems, electronic walls, retinal scanners, thumb and fingerprint readers, passcodes, barcodes, motion sensors and more. Security is a booming business.
Security.

It's a big deal these days.

That's because we have so much to guard — our homes, our possessions, our money, our data, our identities — and there are so many miscreants ready to exploit any holes in our defenses, any weakness in our firewalls, any lag in our virus programs, any failure to back up our documents and any laxness with our personal information.

At the same time, some impressive new tools are now available to help us fend off these attacks. Guarding our homes, for example, is now easier than ever, especially if we're comfortable with technology and are willing to spend top dollar for a state-of-the-art security system. With such systems, we can arm our home-security alarm with our smartphones even if we're not nearby at the time. We can receive email alerts every time our front door opens, even if we're miles away. And if we want to know who opened it, we can summon a 30-second video clip from a camera that monitors the door.

We can also install electronic ...
---
Start today. Cancel any time.
Act now and, for just $7.99 a month or $69.95 a year, you'll receive a full year of this valuable sermon preparation resource.
Our convenient, continuous-subscription program ensures you'll never miss out on the inspiration you need, when you need it.
You're never obligated to continue. Naturally, you may cancel at any time for any reason, no questions asked.