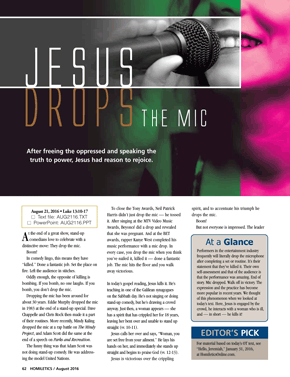 Jesus Drops the Mic
Sunday, August 21, 2016
|
Luke 13:10-17
When you're performing and you absolutely kill it, there's only one thing to do: drop the mic.
At the end of a great show, stand-up comedians love to celebrate with a

distinctive move: They drop the mic.

Boom!

In comedy lingo, this means they have "killed." Done a fantastic job. Set the place on fire. Left the audience in stitches.

Oddly enough, the opposite of killing is bombing. If you bomb, no one laughs. If you bomb, you don't drop the mic.

Dropping the mic has been around for about 30 years. Eddie Murphy dropped the mic in 1983 at the end of a stand-up special. Dave Chappelle and Chris Rock then made it a part of their routines. More recently, Mindy Kaling dropped the mic at a rap battle on The Mindy Project, and Adam Scott did the same at the end of a speech on Parks and Recreation.

The funny thing was that Adam Scott was not doing stand-up comedy. He was addressing the model United Nations.

To close the Tony Awards, Neil Patrick Harris didn't just drop the mic -- he tossed it. After singing at the MTV Video Music Awards, Beyoncé did a drop and revealed that she was...
---
Start today. Cancel anytime.
Act now and, for just $6.99 a month or $69.95 a year, you'll receive a full year of this valuable, sermon preparation resource.
Our convenient, continuous-subscription program ensures you'll never miss out on the inspiration you need, when you need it.
You're never obligated to continue. Naturally, you may cancel at any time for any reason, no questions asked.